The man who didn't shoot Hitler
Their eyes met across the battlefield in what would turn out to be the final weeks of the First World War. The wounded German corporal was trying to escape but realised he was in the rifle sight of a British soldier.

At that moment on September 28, 1918, the Tommy lowered his weapon indicating that he would not kill an already injured and retreating enemy. The German nodded his thanks and then disappeared.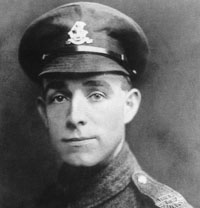 It was an act of humanity that was typical of Private Henry Tandey, the Victoria Cross winner who emerged from the terrible conflict as the most decorated surviving British soldier.

But as he stood in the bombed wreckage of his home in Coventry 22 years later, after the city was laid waste by a Luftwaffe raid, Tandey regretted the compassion he had shown. For, as he had discovered only a few years previously, the adversary whose life he had spared that fateful day was Adolf Hitler.

How had Tandey learned the astonishing news that he was the "man who didn't shoot Hitler"? In 1938 with Britain seeking to appease the now Fuhrer as he plotted continental domination British prime minister Neville Chamberlain had flown to Munich on what was to be a futile diplomatic mission.

While at Hitler's hilltop retreat in Bavaria Chamberlain was intrigued by a painting. Strangely, given its setting, it depicted a British soldier from the Green Howards regiment in the First World War carrying a wounded comrade.

Asked by Chamberlain about its significance Hitler said: "That man came so near to killing me that I thought I should never see Germany again. Providence saved me from such devilishly accurate fire as those boys were aiming at us."

Hitler asked Chamberlain to convey his best wishes and thanks to Tandey when he returned to England and the prime minister did so, calling the war hero with the news he can scarcely have wanted to hear.

How the world might have looked if Hitler had not survived is one of the great "what ifs" of history.

[...]

Read the full article at: express.co.uk




---
READ:
Georg Elser: The Man Who Almost Killed Hitler
---
Tune into Red Ice Radio:
Gerrard Williams - The Escape of Adolf Hitler
Mark Weber - Historical Review of War, Political Leadership & World War Two
Greg Hallett - Hitler Was a British Agent & New Zealand Corruption
T Stokes - Churchill, Hitler & the Occult, WWII & NWO Astrologers
Peter Levenda - Secret Space Program & NASA's Nazis
Joseph P. Farrell - Babylon's Banksters, Nazi International & Global Finanical Blackmail