The New Normal: Artist Butchers "Disney Princesses" with Breast Cancer Scars
Comment: Natural remedies for cancer, like: diet, vitamins, minerals and other supplements are NEVER addressed. Neither are chemicals and wi-fi saturated environment recognized for the rise in these new epidemics. Instead ... what do they do? They normalize it. Like it's just the new thing you need to do. Change nothing and adapt to these new circumstances of mutilation kids. It's the new normal and it's sick.

Related: Angelina Jolie recently did a Pre-Cancer Breast Removal, a completely Unnecessary Mutilation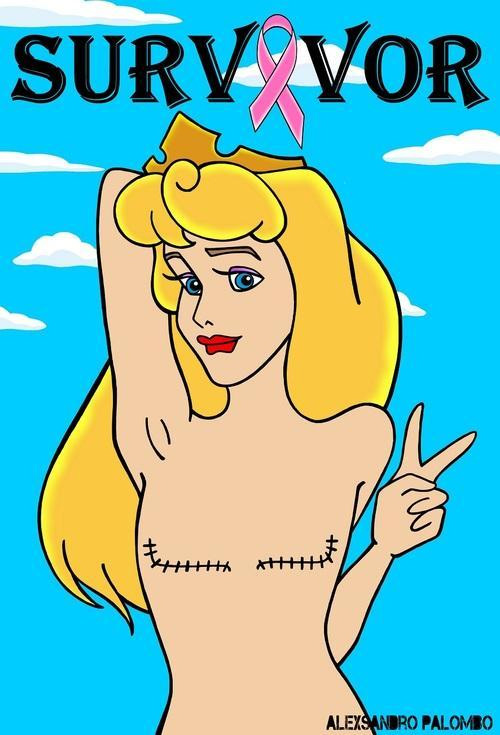 Princess Aurora from Sleeping Beauty bares her breast cancer surgery scars in a new series of controversial illustrations by artist aleXsandro Palombo.

Betty Boop, Lois Griffin, and Disney princesses are baring skin and scars as the subjects of a new series of illustrations intended to support breast cancer survivors. The artworks, by Italian artist, fashion designer, and activist aleXsandro Palombo, feature iconic cartoon characters after surgery to remove one or both breasts.

The images show the cartoon characters topless, revealing scars from a single or double mastectomy (surgical breast removal). Each image is emblazoned with "Survivor" at the top, and many of the drawings feature the women with a pink ribbon covering their remaining breasts and flashing a peace sign. View the complete collection on Palombo's blog.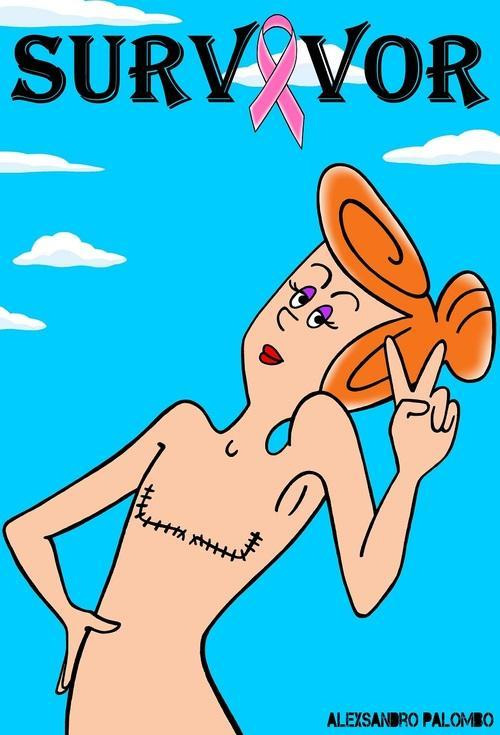 "The acceptance of your own body mutilated by a mastectomy is one of the devastating moments that is part of the disease," Palombo told the Daily Mail Online. "You must be very strong to be able to react psychologically and accept the new appearance of your own body … My message is one of hope and courage." Palombo also said that he hoped the project would increase health and breast cancer awareness among younger people.

In September, Palombo released a similar series of illustrations aimed at fighting online bullying. The campaign showed Disney princesses and other cartoon characters such as Bart Simpson as cyber bullying victims and perpetrators. His first campaign using this style, released in March 2014, was a shocking collection of illustrations featuring female cartoons as domestic violence victims. (Warning: the domestic violence images, posted on Palombo's blog, may be disturbing to some viewers.)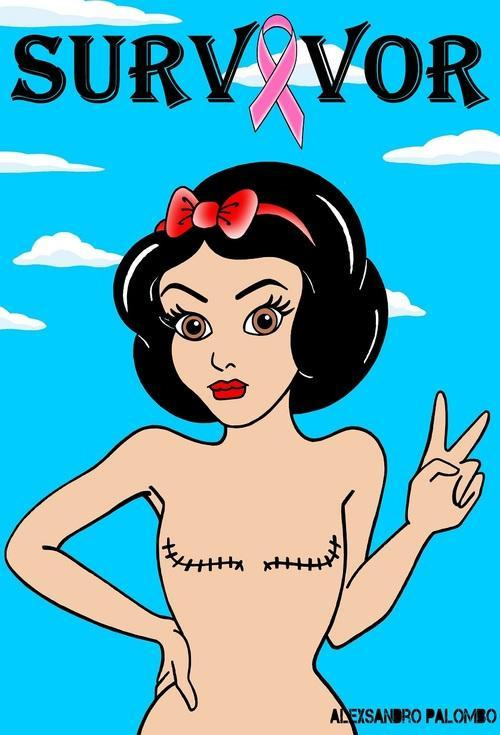 Additional note: why is there no "Disney diversity" in these images?

And here is the "killer" of the article (literally):
Mastectomy is used alone or in combination with radiation and chemotherapy to treat breast cancer. It is also a preventative option for some women at high risk for breast cancer. To learn more, read the American Cancer Society's guide to breast cancer surgeries or the National Cancer Institute's information on preventive breast cancer removal.

Source: yahoo.com