The Reality Show: Schizophrenics now making sense over 'actors and hidden cameras'
As we march mindlessly into our brave new digital world, there's more going on behind the scenes in the minds of millions.

"In the 21st century, the influencing machine has escaped from the shuttered wards of the mental hospital to become a distinctive myth for our times. It is compelling not because we all have schizophrenia, but because reality has become a grey scale between the external world and our imaginations. The world is now mediated in part by technologies that fabricate it and partly by our own minds, whose pattern-recognition routines work ceaselessly to stitch digital illusions into the private cinema of our consciousness."

A very thought-provoking article here by author Mike Jay in Aeon Magazine…
.
Schizophrenics used to see demons and spirits. Now they talk about actors and hidden cameras – and make a lot of sense
.
Mike Jay
Aeon Magazine

Clinical psychiatry papers rarely make much of a splash in the wider media, but it seems appropriate that a paper entitled 'The Truman Show Delusion: Psychosis in the Global Village', published in the May 2012 issue of Cognitive Neuropsychiatry, should have caused a global sensation. Its authors, the brothers Joel and Ian Gold, presented a striking series of cases in which individuals had become convinced that they were secretly being filmed for a reality TV show.

In one case, the subject travelled to New York, demanding to see the 'director' of the film of his life, and wishing to check whether the World Trade Centre had been destroyed in reality or merely in the movie that was being assembled for his benefit. In another, a journalist who had been hospitalised during a manic episode became convinced that the medical scenario was fake and that he would be awarded a prize for covering the story once the truth was revealed. Another subject was actually working on a reality TV series but came to believe that his fellow crew members were secretly filming him, and was constantly expecting the This-Is-Your-Life moment when the cameras would flip and reveal that he was the true star of the show.

Few commentators were able to resist the idea that these cases — all diagnosed with schizophrenia or bipolar disorder, and treated with antipsychotic medication — were in some sense the tip of the iceberg, exposing a pathology in our culture as a whole. They were taken as extreme examples of a wider modern malaise: an obsession with celebrity turning us all into narcissistic stars of our own lives, or a media-saturated culture warping our sense of reality and blurring the line between fact and fiction. They seemed to capture the zeitgeist perfectly: cautionary tales for an age in which our experience of reality is manicured and customised in subtle and insidious ways, and everything from our junk mail to our online searches discreetly encourages us in the assumption that we are the centre of the universe.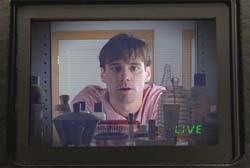 But part of the reason that the Truman Show delusion seems so uncannily in tune with the times is that Hollywood blockbusters now regularly present narratives that, until recently, were confined to psychiatrists' case notes and the clinical literature on paranoid psychosis. Popular culture hums with stories about technology that secretly observes and controls our thoughts, or in which reality is simulated with virtual constructs or implanted memories, and where the truth can be glimpsed only in distorted dream sequences or chance moments when the mask slips. A couple of decades ago, such beliefs would mark out fictional characters as crazy, more often than not homicidal maniacs. Today, they are more likely to identify a protagonist who, like Jim Carrey's Truman Burbank, genuinely has stumbled onto a carefully orchestrated secret of which those around him are blandly unaware.

[...]

Read the full article at: 21stcenturywire.com