TSA Administrative Directive: Opt-Outters To Be Considered "Domestic Extremists"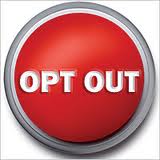 If the information recently acquired by Doug Hagmann of Northeast Intelligence Network is accurate, then something really big is happening in America right now - and it's most certainly not a step towards individual liberty.

According to Mr. Hagmann, he was contacted by a source within the DHS who provided an alarming memo detailing a new administrative directive agreed upon by DHS chief Janet Napolitano and the head of TSA John Pistole. The memo, according to Doug Hagmann, "officially addresses those who are opposed to, or engaged in the disruption of the implementation of the enhanced airport screening procedures as 'domestic extremists'."

The memo leaves no doubt as to who, exactly, is leading the charge to label Americans who refuse current security measures due to health and privacy concerns as extremists. "The measures to be taken in response to the negative public backlash as detailed [in this directive], have the full support of the President," it says.

Under the new labeling procedures, those who choose to opt-out or are perceived as being troublemakers will be detained, questioned and processed for further investigation:


The terminology contained within the reported memo is indeed troubling. It labels any person who "interferes" with TSA airport security screening procedure protocol and operations by actively objecting to the established screening process, "including but not limited to the anticipated national opt-out day" as a "domestic extremist." The label is then broadened to include "any person, group or alternative media source" that actively objects to, causes others to object to, supports and/or elicits support for anyone who engages in such travel disruptions at U.S. airports in response to the enhanced security procedures.

For individuals who engaged in such activity at screening points, it instructs TSA operations to obtain the identities of those individuals and other applicable information and submit the same electronically to the Homeland Environment Threat Analysis Division, the Extremism and Radicalization branch of the Office of Intelligence & Analysis (IA) division of the Department of Homeland Security.


The United States government, under complete control and direction of our elected President, is now actively labeling anyone who exercises their 4th amendment Constitutional right which protects against warrantless and unreasonable searches and seizures as, essentially, engaging in terrorism as defined by Section 802 of the USA Patriot Act:


Section 802 [USA Patriot Act]

(a) DOMESTIC TERRORISM DEFINED- Section 2331 of title 18, United States Code, is amended–
'(5) the term `domestic terrorism' means activities that–
'(B) appear to be intended–
'(i) to intimidate or coerce a civilian population;
'(ii) to influence the policy of a government by intimidation or coercion;


Though it may seem a broad interpretation, the definitions for domestic terrorism are very vague, allowing for a variety of views depending on who happens to be making the decisions. The very fact that TSA is allegedly going to label opt-out travelers as 'domestic extremists' suggest that they are, by today's standards, considered no different than terrorists - and thus - may have their Constitutional rights stripped and be held without trial. In a previous article we discussed Matt Kernan, who may have found a Constitutional argument that works to avoid enhanced security in the airport. But, what if the-powers-that-be determined, by whatever vague definition, that the Constitution doesn't apply?

With the outrage from American travelers and the pressure being put on corporate profits, the President and TSA may eventually change their tune. But if they don't, then we can expect more intrusive checkpoints from our government in the very near future. Ms. Napolitano has already publicly stated that DHS is looking at other mass transit systems like buses and trains as the next target.

Something big is happening. And either the American people are going to force the change - starting with each individual making a personal decision to stand up against policies that can be described as nothing less than tyrannical - or the expansion of surveillance and control systems will continue to spread.

If the American people fail this time as we did with bailouts and healthcare, the end result will be backscatter machines in schools, malls, stadiums, and any other public venue which is deemed a security threat by our government.

Article from: shtfplan.com




---


Domestic Extremist? (Screw Big Sis TSA Protest)

Video from: YouTube.com