TV ad seeks to recruit Arab-Americans to CIA
There's a swirl of activity in a spacious, modern kitchen as final meal preparations are made.

An older man tries to swipe a felafel off an appetizer plate but instead gets a loving hand slap from a woman. The happy, well-dressed guests move to a table full of food in a dining room adorned with Middle Eastern wall-hangings.

It's an inviting, if idealized, dinner party scene from any Arab-American home at least that's what the CIA seeks to convey in the first television commercial of its kind. The agency, in turn, hopes it's an inviting message to U.S. Arabs.

"Your nation, your world," a male voice says with a Middle Eastern accent, as the frame moves outside and pans out to show the party through a window of a gleaming, high-rise building. In seconds, the shot zooms out to an image of the U.S. from space. "They're worth protecting.

"Careers in the CIA."

The commercial, which the agency plans to debut on mainstream and ethnic TV stations and Web sites nationwide within the next few months, represents artistic and technological leaps for the agency. Until now, its print, broadcast and Web advertising has focused on the variety of career options and the diversity among its ranks, but the agency hasn't used a storytelling approach to sell its message.

It's part of an ambitious outreach effort to communities the CIA deems critical to reducing the threat of terrorism in the U.S. The agency has a five-year plan to boost fluency in Arabic and other languages.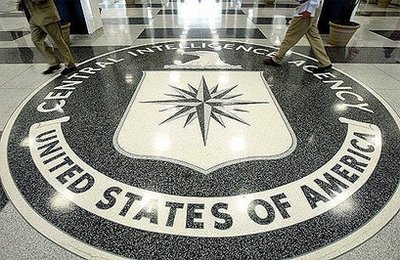 The CIA symbol is shown on the floor of its headquarters in Langley, Virginia. The CIA provides hundreds of millions dollars to Pakistan's spy service, including payments for the capture or killing of wanted militants, a US newspaper reported, citing unnamed officials and former officials. (AFP/Getty Images/File)


But resistance could come from U.S. Arabs who have felt the sting of suspicion since the Sept. 11, 2001, terrorist attacks. Many Arabs and Muslims have been dubious of the government's intelligence gathering and believe spying is going on in mosques and other places.

The CIA on Wednesday held a private screening of the commercial and another 30-second spot aimed at recruiting Iranian-Americans. Each drew applause from the group of about 40 people gathered for the viewing in Dearborn, in the heart of Michigan's large Middle Eastern community.

Daw Alwerfalli, a mechanical engineering professor at Lawrence Technological University in the Detroit suburb of Southfield, said he liked the casual approach. An added benefit and point of pride for Alwerfalli: His son, Tamer, was among the actors.

"It's talking to anybody it shows that the CIA cares about the integrity of the family in general," Alwerfalli said.

Suehaila Amen, 30, thought the commercial was visually appealing and positive, but it "didn't resonate" with her because it didn't fully deliver on its message.

"I just saw family together sharing a meal, doing what we do best the hugs and kisses over great food and great company but I didn't see why it's important to the CIA," said Amen, a community activist in Dearborn.

The ad's soft-selling, storytelling approach emerged from focus groups and conversations with CIA employees of Middle Eastern heritage. The research revealed that Arab-Americans want to retain their ties to their homelands but embrace a sense of duty to the U.S. They stressed a desire to work in places where they can use their experiences and enjoy an exciting career.

"It's important for them to know we understand how important their culture is to them. They're not going to lose that once they walk through the front doors of the CIA to work," said Christina Petrosian, chief of advertising and marketing for agency's recruitment and retention center.

Petrosian and her team filmed the commercial in the same Hollywood studio that once was home to Desilu Productions and the pioneering 1950s sitcom "I Love Lucy," which itself broke ethnic barriers by costarring Cuban-American actor Desi Arnaz in the role of Ricky Ricardo.

Petrosian believes the commercial portrays a broad yet authentic slice of life that will resonate with its audience.

"We hear over and over again, 'The CIA is not even on my radar to come and apply,'" she said. "Showing the commercial in this way with a Middle Eastern focus hopefully that will generate that interest."

Article from: Guardian.co.uk