Vatican invites Mexicans to discuss whether there's a god
A Vatican envoy has arrived in Mexico with a message: God is not dead.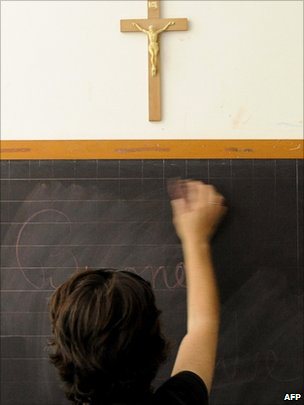 This week, Cardinal Gianfranco Ravasi will host a series of debates on secularism that will bring together believers and nonbelievers – the Vatican's first "Courtyard of the Gentiles" event outside Europe.

Cardinal Ravasi's visit, and the conversation it's meant to ignite, comes at a time of spiritual transition in Mexico. The number of non-Catholics in the still predominantly Catholic nation of 112 million has been rising since the 1970s, while the ranks of those who consider themselves expressly non-religious have jumped significantly, by 56 percent, between 2000 and 2010.

More than 10 million Mexicans practice a religion other than Catholicism today; another 5.3 million say they are not part of any religion, according to the national statistics agency, INEGI.

"We warned [organizers] that we suspected the dialogue would be more difficult in Mexico than in Europe," says Guillermo Hurtado, a professor of philosophy at Mexico's National Autonomous University, who will participate in the debates. "In a country like Mexico, there is a great divide that separates believers and nonbelievers. There's a latent antagonism."

'The God question'

The Vatican's "courtyard" series began under former Pope Benedict XVI, who stepped down in February. In an increasingly secular world, Mexico included, religion and religious considerations have taken a back seat in public life, and the dialogue aims to counterbalance that. That the series is making its first stop outside of Europe in Latin America is one indication that Pope Francis of Argentina wants to raise the region's profile in the church, say observers.

In describing the series for a Spanish publication last year, Ravasi wrote, "Even though they declare themselves atheists, the God question remains present in many men and women." The "courtyard" is an opportunity to have a dialogue about faith and reason, he said.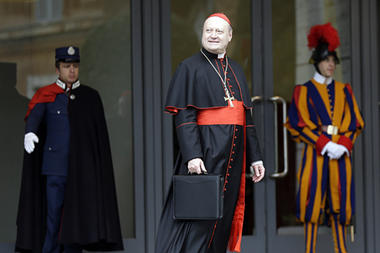 Cardinal Gianfranco Ravasi arrives for an afternoon meeting, at the Vatican, in March. This week, Cardinal Ravasi will host a series of debates on secularism that will bring together believers and nonbelievers – the Vatican's first 'Courtyard of the Gentiles' event outside Europe.


[...]

Read the full article at: alaskadispatch.com




---
[...]Ravasi spoke this morning at a Vatican news conference to present the event, which involves the Vatican in partnership with three prestigious institutions: the Sorbonne, UNESCO, and the Institut de France.

In effect, the "Courtyard of the Gentiles" amounts to a way for Catholicism to present the best of itself to a jaded secular world -- the intelligence of Catholic tradition, its curiosity and openness, and its drive to become what Pope Paul VI called the "sacrament of the unity of the human family."

Inspiration came from Benedict XVI's speech to Roman Curia in December 2009, when the pontiff looked back on his trip that year to the Czech Republic -- statistically, at least, the most secularized society in Europe, with the highest percentage of avowed atheists and agnostics.

Reflecting on the experience, Benedict said: "I think the church today should open a sort of 'Courtyard of the Gentiles,'" referring to the space in the ancient Jerusalem temple where non-Israelites could enter. Source, 2011
The Court of the Gentiles:
The entire Temple compound was considered holy, but it became increasingly more holy as one entered farther in, from east to west. King Herod had enclosed the outer court with colonnades and it was referred to as the Court of the Gentiles because the "gentiles" (non-Jews) were permitted to enter the Temple area. They could walk within in it but they were forbidden to go any further than the outer court. They were excluded from entering into any of the inner courts, and warning signs in Greek and Latin were placed that gave warning that the penalty for such trespass was death. The Romans permitted the Jewish authorities to carry out the death penalty for this offence, even if the offender were a Roman citizen. It was for this alleged crime that Paul was attacked and nearly beaten to death by an angry crowd during his last visit to Jerusalem (Acts 21:27-32).

[...]

It was into these outer courts that Jesus came and drove out the money-changers who had been accumulating wealth by using the Temple as a place of merchandise. Source