Venezuelans download new app which helps locate TOILET PAPER as stock runs low
Tissue shortages inspired free Android app which guides users to supermarkets which have available stocks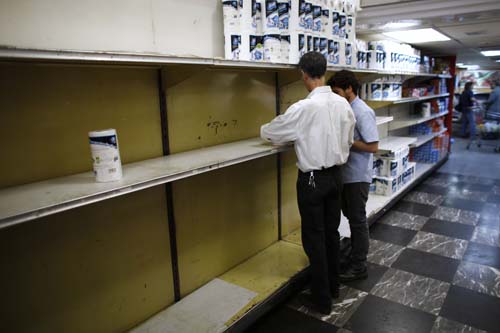 In the recent months, there has been a short supply of toilet rolls in Venezuela due to price controls imposed by the government, economists say.

As a result, thousands of Venezuelans have turned to this new smartphone app which helps them find toilet paper.

Abasteceme or "Supply Me" in English is a free Android app that functions on crowdsourcing technology, enabling users to let each other know which supermarkets have tissue available.

The bizarre app was launched last week and creator Jose Augusto Montiel said that most number of downloads came from the residents in the city, Caracas.


"Lots of things are in short supply, but what people are most worried about is finding toilet paper. People never knew how much they needed it until it started running out," said Mr Montiel.

Venezuelan president Nicolas Maduro claims anti-government forces are deliberately buying up basics like toilet paper to destabilise the country.

In response to the shortage, Mr Maduro promised to import 50 million extra rolls.

Article from: todayonline.com