What is Happening in Istanbul?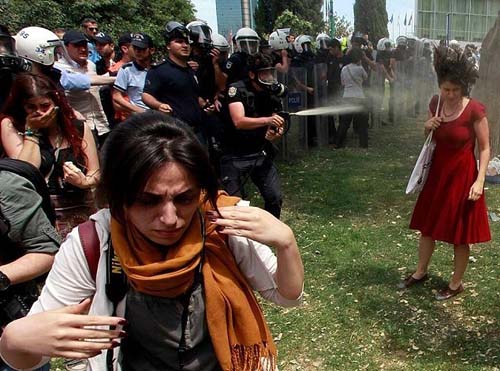 [...]In the evening the number of protesters multiplied. So did the number of police forces around the park. Meanwhile local government of Istanbul shut down all the ways leading up to Taksim square where the Gezi Park is located. The metro was shut down, ferries were cancelled, roads were blocked.

Yet more and more people made their way up to the center of the city by walking.

They came from all around Istanbul. They came from all different backgrounds, different ideologies, different religions. They all gathered to prevent the demolition of something bigger than the park:

The right to live as honorable citizens of this country.


They gathered and marched. Police chased them with pepper spray and tear gas and drove their tanks over people who offered the police food in return. Two young people were run over by the panzers and were killed. Another young woman, a friend of mine, was hit in the head by one of the incoming tear gas canisters. The police were shooting them straight into the crowd. After a three hour operation she is still in Intensive Care Unit and in very critical condition. As I write this we don't know if she is going to make it. This blog is dedicated to her.

These people are my friends. They are my students, my relatives. They have no «hidden agenda» as the state likes to say. Their agenda is out there. It is very clear. The whole country is being sold to corporations by the government, for the construction of malls, luxury condominiums, freeways, dams and nuclear plants. The government is looking for (and creating when necessary) any excuse to attack Syria against its people's will.

On top of all that, the government control over its people's personal lives has become unbearable as of late. The state, under its conservative agenda passed many laws and regulations concerning abortion, cesarean birth, sale and use of alcohol and even the color of lipstick worn by the airline stewardesses.

People who are marching to the center of Istanbul are demanding their right to live freely and receive justice, protection and respect from the State. They demand to be involved in the decision-making processes about the city they live in.

What they have received instead is excessive force and enormous amounts of tear gas shot straight into their faces.

[...]

Read the full article at: globalresearch.ca




---
Amnesty International: Abuses against protestors in Turkey
Is this the Turkish Spring?
---