What really happened at the Trump Chicago rally - A Firsthand Account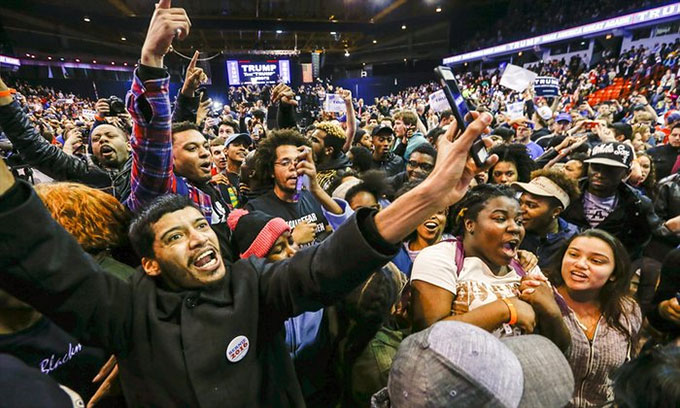 At 2:30 p.m., I arrived at the Donald Trump rally located at the UIC pavilion in Chicago, IL. There was light police presence at the Blue Line station, and the pavilion was short walk away. There I waited in line for about an hour until making it to the front doors, going through a security scanner, and finding a seat in the main hall.

For nearly two hours the pavilion filled until it neared capacity. It was clear that protesters were seated around the room, given easily away by their manner of dress. Most of the Trump supporters, being suburbanite or small town white people from outside of Chicago, were dressed strikingly normal—jeans and t-shirts, yoga pants or dresses, and the occasional suit.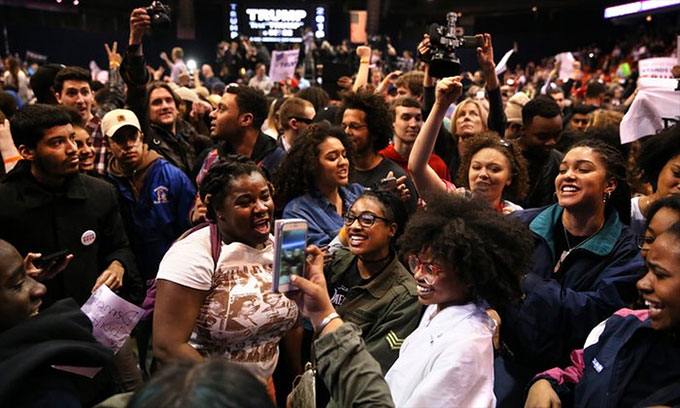 The first protestors began around 5:30 when two young white males pulled off their coats to reveal t-shirts with anti-Trump slogans. At this point I noticed the police presence inside the rally was a mere 8 police officers, bolstered with hands-off event staff.

Before 6:00 p.m., a man spoke on the microphone and requested that rally attendees do not touch or harm protesters who interrupt the event. He reminded the protesters that Donald Trump supports the first amendment as much as the second.

Following this was a string of smaller incidents, such as people holding up improvised signs and shouting.


* One entire bleacher row was filled with protesters and they began chanting and throwing around torn up signs.

* A few people who began standing up and screaming, and were slowly escorted out by police. The police kept leaving the protesters unattended throughout this, taking 4-8 officers to escort protesters out one at a time.

* A black man in a black jacket ran up to the front stage, bumped into the podium, and attempted to speak, but was wrestled down by two men in suits. As they escorted him through the crowd, he took a swing at a Trump supporter. The men escorting him were incredibly gentle and restrained themselves from using any force.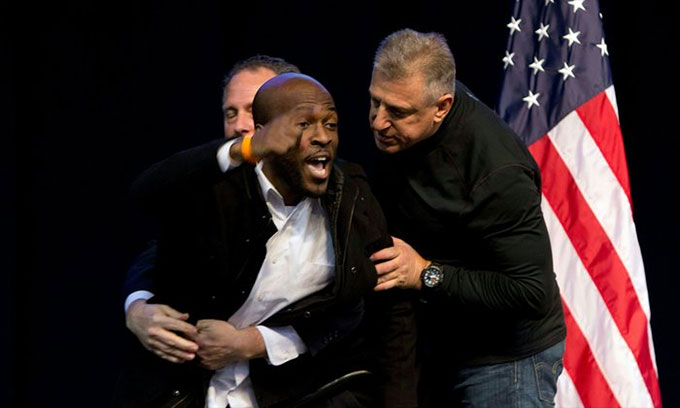 Then voice came on and declared that the event was postponed. A few minutes later, they informed us that Trump had landed in Chicago and spoken to Chicago Police officers, and that due to safety concerns, the rally was canceled.

At this point, the protesters began to descend into chaos. Aside from a few mild "TRUMP" and "USA" chants, the Trump supporters were mostly quiet and bewildered as the protesters began to scream, chant, and run around the main floor area in a huge pack, flipping off the rally attendees and swearing at them. There were a few tense altercations between the two groups, but from what I saw at this point, no violence.

The rally was instructed to leave the pavilion, and I have to admit, the Chicago Police messed up bad here.

We walked straight out of the building and into enormous packs of protesters screaming at us, with little police presence to protect the Trump supporters.

Read the rest: reddit.com