Why Does America Media Continue to Honour Henry Kissinger?
It's no surprise in 2013 to see the government media complex try it's very best to preserve the delicate legacies of lauded members of the political establishment.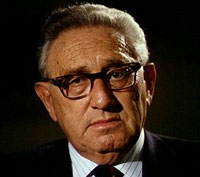 Look how much effort was poured into the media eulogies for Margaret Thatcher recently, only to see the whole facade come crashing down against the real weight of public opinion and negative feelings towards the iconic Iron Lady. In the end, even the all-powerful media could not hide her affinity with international friends like General Pinochet and Pol Pot.

In the American political theater, media treatment of men or women who are considered 'political institutions' tends to be much more vain and sycophantic, where junior anchors and talk show hosts will generally fall over backwards to secure 15 minutes with any such veteran, even a war criminal like Henry Kissinger.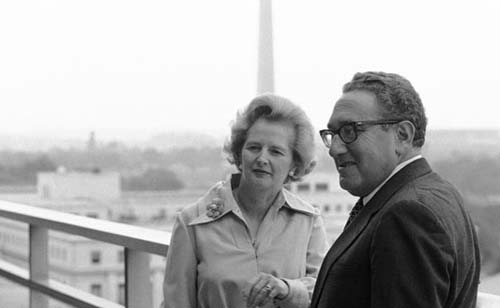 Kindred spirits, always on the same page when it came to feeding the global war machine.


Kissinger is widely regarded by most well-read people worldwide as the mascot for carpet bombing in Southeast Asia, regime change and last but not least – US domestic policy manipulation. You could say was the forerunner to the GW Bush era of making the illegal seem legal, and making the immoral seem moral. Although he regards himself as an American, it is rather disturbing to know that a US Administration – Nikon's in this case, would allow someone with dual nationalist loyalties and who was not born in the US, to sit in one of the most important seats in Washington DC. There was a reason why he was inserted into that role at that specific time in history. America is still living with the repercussions of that oversight today.

Whether it's the Bilderberg Group, Bohemian Grove, the Trilateral Commission, or the Council on Foreign Relations, Henry Kissinger has always been placed in the key steering positions in order to exact certain outcomes for those whom he really works for. Still, hopeless career media pundits will continue to paint him as an foreign policy guru, but the reality is that he was simply better at manipulating and politically blackmailing those around him than the next man.

Again, and like with his good friend Lady Thatcher, Henry Kissinger's legacy will not be easy to contain within a few clever memes like, 'foreign policy genius' or 'skilled diplomat', and no matter what agit prop the media try to erect, there will be celebrations after the fact…
…

Henry Kissinger's quote recently released by Wikileaks,"the illegal we do immediately; the unconstitutional takes a little longer", likely brought a smile to his legions of elite media, government, corporate and high society admirers. Oh that Henry! That rapier wit! That trademark insouciance! That naughtiness! It is unlikely, however, that the descendants of his more than 6 million victims in Indochina, and Americans of conscience appalled by his murder of non-Americans, will share in the amusement. For his illegal and unconstitutional actions had real-world consequences: the ruined lives of millions of Indochinese innocents in a new form of secret, automated, amoral U.S. Executive warfare which haunts the world until today.

And his conduct raises even more fundamental questions: to what extent can leaders who act secretly ,illegally and unconstitutionally, lying to their citizenry and legislature as a matter of course, legitimately claim to represent their people? How much allegiance do citizens owe such leaders? And what does it say about America's elites that they have honored a man with so much innocent blood on his hands for the past 40 years?

[...]

Read the full article at: globalresearch.ca




---

Read: "'Illegal we do immediately; unconstitutional takes a little longer": Kissinger in new mass WikiLeaks document release