Woolwich 'Terror' Reigniting the Fire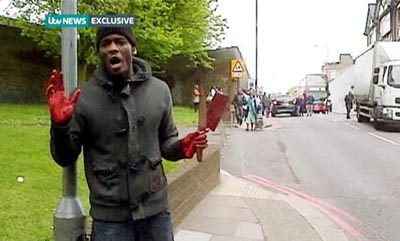 The recent murder of British soldier Lee Rigby in Woolwich has reignited the fire of the 'war on terror' in Britain. Initial, inaccurate reports said that the victim was beheaded with a machete by a man shouting 'Allah Akbar' and this started a media firestorm. Within hours the killing was labelled as terrorism and the upper echelons of government went through the absurd ritual of two COBRA meetings. Now that the initial wave of fear-filled nonsense has passed, we are in a position to ask some serious questions.

This was the first meaningful act of 'terrorism' in Britain since the 7/7 bombings of 2005. On 21/7, two weeks after 7/7, the 'bombers' had no bombs, no viable explosive devices, and despite the cut-throat defence of Manfo Asiedu (not his real name) the idea that these were failed suicide bombings is flimsy at best. Two years later, just after the jury had retired to consider their verdict in the trial of the 21/7 accused, two men drove a Jeep Cherokee into a bollard at Glasgow airport having set themselves on fire. No members of the public were injured, the only person who died in the attack was one of the culprits, and a little over a week later the jury in the 21/7 trial found four of the accused guilty. They couldn't come to a verdict on Asiedu and he later pleaded guilty to diminished charges. In the Glasgow airport incident the second man in the jeep was convicted of conspiracy to murder but several others who were arrested were all found not guilty or had the charges against them dropped.

The following year, in May 2008 a young white man who had converted to Islam named Nicky Reilly tried to blow himself up in Exeter. He accidentally detonated his bomb in the toilets of a restaurant, managing only to injure himself and scare a few people. He pleaded guilty and received a life sentence. Reilly was a social misfit with a low IQ, learning difficulties, who suffered from Aspergers Syndrome and had spent some time in a mental health facility. As such he was extremely susceptible to manipulation, as his mother put it, 'he would have had to have instructions or guidance from someone, there's no way Nicky's got the capability to do that.' Several other people who were arrested as part of the investigation were all released and no provocateur or mastermind, either Islamic or otherwise, has ever been found.

Since then, the treadmill of arrests of Muslims and occasionally others has continued, as has the mission creep of the security services as seen in the run up to the Olympic games in London, but there has been no 'terrorist' violence in mainland Britain, until Woolwich. This perhaps explains why the government were so quick to call this incident a terrorist attack, because the great threatening menace of radical Islamic terror has, since 7/7, added up to a bunch of fools who were more dangerous to themselves than to anyone else. Two Nigerian men who killed a soldier by driving over him and then hacking him to death, one of whom was filmed after the deed with bloody hands shouting radical statements, fit the bill very nicely.

Echoes of Past Blowback

If we are to take Michael Adebolajo's statements at face value, his motive for killing Lee Rigby was as a backlash against or revenge for the violence perpetrated by NATO in Muslim lands. He said:

The only reason we have killed this man today is because Muslims are dying daily by British soldiers. And this British soldier is one. ... By Allah, we swear by the almighty Allah we will never stop fighting you until you leave us alone. So what if we want to live by the Sharia in Muslim lands? Why does that mean you must follow us and chase us and call us extremists and kill us? ... When you drop a bomb do you think it hits one person? Or rather your bomb wipes out a whole family? ... Through [many passages in the] Koran we must fight them as they fight us. ... I apologise that women had to witness this today but in our lands women have to see the same. You people will never be safe. Remove your governments, they don't care about you. You think David Cameron is going to get caught in the street when we start busting our guns? You think politicians are going to die? No, it's going to be the average guy, like you and your children. So get rid of them. Tell them to bring our troops back so we can, so you can all live in peace.

This has led many commentators to categorise the attack as blowback, the unintended but utterly predictable consequence of covert or overt military operations. Indeed, many of Adebolajo's claims and exhortations, such as that our governments in the West don't care about us and that we should get rid of them, are quite widespread beliefs and sentiments. Withdrawing troops from the many countries they occupy would likely be the most popular policy in NATO's history, both domestically and globally. The critical difference is that Adebolajo seems to have turned such ideas into the justification for murder. As much as there is reason to be sceptical of the 'blowback' category of terrorist events, particularly when it is applied to 9/11 and 7/7, in this instance it may well be the most accurate way to interpret the event.

[...]

In such a context we must wonder, did MI5 and the rest of the British security state know about Adebolajo's increasing radicalism, his mistreatment in Kenya, his propensity for violence? Did they allow the attack to happen? Were the intelligence 'failures' actually successes? Just as Al Muhajiroun has created terror suspects for the domestic market and radical militants for the overseas market, does it also manufacture the occasional genuinely dangerous handful of people to be deployed on Britain's streets?

Read the full article at: investigatingtheterror.com