Yet Another Agency Setup? Accused in Georgia militia plot had "no plans"
An attorney for one of the four Georgia men accused of plotting to attack government agents said the suspects never had specific plans.

Attorney Jeff Ertel also questioned the credibility of a confidential government informant at a bond hearing Tuesday.

Investigators have accused 73-year-old Frederick Thomas and 67-year-old Dan Roberts of conspiring to obtain an explosive and possessing an unregistered silencer. Authorities also charged 55-year-old Ray Adams and 68-year-old Samuel Crump with conspiring and attempting to make ricin.

Prosecutors played audio recordings of the four men talking about targeting government officials with explosives, weapons and the biological toxin ricin.
Some family members and supporters shook their heads as they played.

The four men have pleaded not guilty and their relatives say the charges are baseless.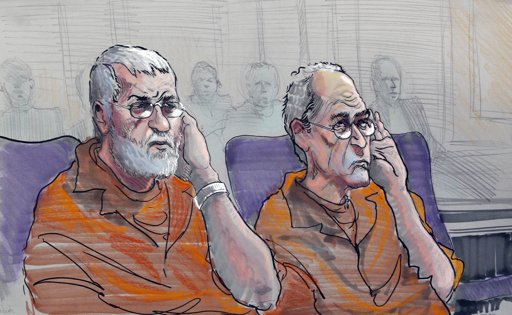 Dan Roberts, left, and Frederick Thomas are shown in this artist rendering as he appear in a federal courtroom in Gainesville, Ga., Wednesday, Nov. 2, 2011. The two and two other men are accused of planning a terror attack. (AP Photo/Richard Miller)



Article from: news.yahoo.com