Act of War? Israeli Jets Bomb Syria Site
In what was the first clear instance of aggression by Israel toward Syria, overnight Israeli jets conducted a bombing run over a military site in Syria, targeting what according to Israel was a military convoy heading to Lebanon. As Al Arabiya reports: "Israeli jets bombed a convoy on Syria's border with Lebanon on Wednesday, sources told Reuters, apparently targeting weapons destined for Hezbollah in what some called a warning to Damascus not to arm Israel's Lebanese enemy.

"The target was a truck loaded with weapons, heading from Syria to Lebanon," said one Western diplomat, adding that the consignment may well have included anti-aircraft missiles. The overnight attack, which several sources placed on the Syrian side of the border, followed warnings from Israel that it was ready to act to prevent the revolt against President Bashar al-Assad leading to Syria's chemical weapons and modern rockets reaching either his Hezbollah allies or his Islamist enemies."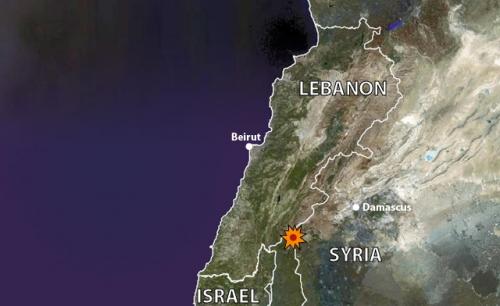 [...]

Read the full article at: zerohedge.com





---
Israel boycotts UN forum, first state in history to ignore human rights review
Israel has boycotted the UN human rights forum over fears of scrutiny of its treatment of residents of the occupied territories. Israel is now the first state in history to win a deferment of the periodical review of its human rights record.

Tel Aviv has refused to send a delegation on Tuesday to the United Nations Human Rights Council in Geneva for the Universal Periodic Review procedure where UN member states have their human rights record evaluated every four years.

Israel's cooperation with the council stopped last March after the UN set up a committee to inspect the effects of the Israeli settlements on Palestinians.

Israel which earlier accused the United Nations of anti-Israel bias reiterated its stance, recalling that the council has passed more resolutions against Israel than all other countries combined.

"After a series of votes and statements and incidents we have decided to suspend our working relations with that body," Yigal Palmor, Israeli foreign ministry spokesman, told the Financial Times. "I can confirm that there is no change in that policy."

"There have been more resolutions condemning Israel than the rest of the world put together," an Israeli government official said on Tuesday. "It's not a fair game – it's not even a game."

Following the Israeli decision, the council has decided to postpone its review until no later than November.

The Council president has also called on the body to adopt a draft response to an unprecedented move by Israel.

Egypt's representative meanwhile has warned that a "soft" approach would create a dangerous precedent and leave "a wide-open door for more cases of non-cooperation," the AFP quoted.

Activist groups lash out against Israel's disregard for international law.

"By not participating in its own review, Israel is setting a dangerous precedent," Eilis Ni Chaithnia, an advocacy officer with al-Haq, a human rights organisation based in Ramallah has told the FT. "This is the first time any country has made a determined effort not to attend."
Source: RT.com