Baghdad museum's slow recovery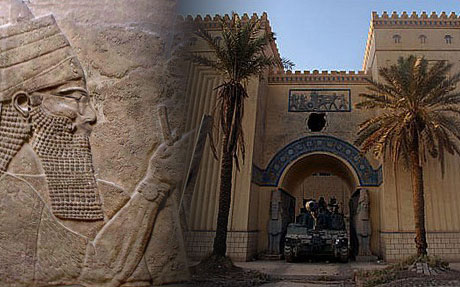 The Assyrian Hall at the Iraqi National Museum is breathtaking.

Stone panels from the royal palace at Khorsabad run along the walls.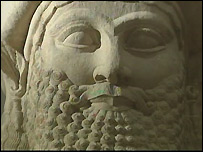 The carvings on the friezes depict daily life in the Assyrian royal court, which at its height about 3,000 years ago controlled a region stretching across much of the modern Middle East.

In one panel a distinctly regal king looks at his subjects as a courtier fans him. Another panel shows priests carrying out religious rituals.

The workmanship on the friezes is delicate. The carefully placed spotlights bring the carvings to life and it is easy for your mind to be transported to ancient Mesopotamia.

Recent work in the hall has included the addition of a modern arch, which is flanked by ancient bulls with eagle wings and human heads.

It forms the entrance to the hall, which gives you the sense of walking into an Assyrian palace.

Looted vaults
Perhaps the Assyrian gallery is so stunning because it is so unexpected in Baghdad.

This gallery, one of only two that are open to visitors to the Iraqi National Museum, gives a hint of the glories that were once in the national collection.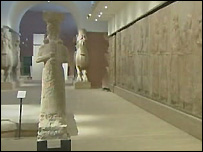 That collection was devastated in the days following the US-led invasion in 2003, when looters emptied the vaults.

The only items that were saved were either too heavy to carry, like those in the Assyrian Hall, or were being stored elsewhere at the time, like the Nimrud treasures.

Since then the museum has been through challenging times. Its controversial director, Donny George, left Iraq after he said that he had received death threats.

The entrances to the museum's galleries were bricked up.

Now those walls have been knocked down and a new director has been appointed.

Some important artefacts have been returned, including the Warka vase, which is over 5,000 years old.

Much is still missing from the museum's collection and may never be returned. There are also persistent reports that archaeological sites in Iraq are continuing to be looted.

'Cradle of civilisation'
Since 2003 the doors of the Iraqi National Museum have rarely been opened.

There was a special viewing for Paul Bremmer, who was at the time the head of the Coalition Provisional Authority.

Now small groups are being let in once again. The museum's executive director hopes that one day the public will be allowed to return.

"I hope that we can open the whole museum," says Dr Amira Eidan.

"There are many galleries. There is the Sumerian Hall. There is an Akkadian Hall and a Babylonian one."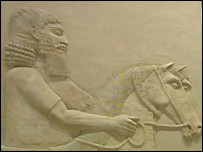 When that will happen is not clear. Although there have been considerable improvements in security in Baghdad in recent months, the city is still not safe.

"I wish I could say when the museum will reopen but it depends on the security situation," Dr Eidan adds.

"It is so important for all the Iraqi people for the museum to be safe. We cannot take the risk again and see what happened in 2003."

The only other gallery that is open is one containing ancient Islamic artefacts.

As we walked through the corridors of the museum we passed many items covered in plastic. Other halls were closed off from view.

Mesopotamia is often called the cradle of civilisation, giving us writing, the first literary epic and even beer.

Iraqis are fiercely proud of their cultural heritage.

Despite the trauma of the past few years, the national museum remains for many Iraqis a symbol of a glorious past and also of a future that they still yearn for.

Article from: http://news.bbc.co.uk/2/hi/middle_east/7144701.stm