Boxing Day Quakes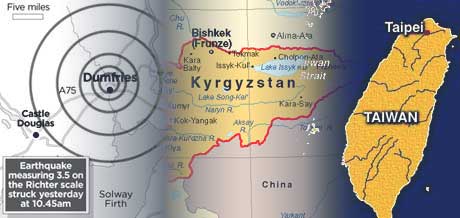 We've had some strong quakes all around the globe on Boxing Day again! Remember that both the earthquake that hit Bam, Iran , 2003 was on Boxing day and exactly one year later, December 26, 2004 a magnitude 9.0, the strongest earthquake in 40 years, went off in the Indian Ocean off the western coast of Sumatra.

Below are a few of the most recent headlines:

Powerful earthquake strikes off southwestern Taiwan, triggering tsunami warning

A powerful earthquake struck off southwestern Taiwan on Tuesday, triggering a tsunami warning on the second anniversary of the waves that killed more than 200,000 in southern Asia.

Two hours later, seismologists lifted the warning, saying the threat of destructive waves had passed.

Shaken town panicked by Boxing Day earthquake

Residents in a Scottish town reported their houses shaking violently and windows rattling yesterday after the most powerful earthquake in Britain this year was recorded in Dumfries.

The 3.5-magnitude tremor struck the town just before 10.45am and lasted for about ten seconds. Some residents were so panic-stricken that they rushed out into their gardens. Others feared that a plane had crashed or that a train had come off the tracks.

Another small earthquake hits Bay Area

The San Francisco Bay Area was nudged Monday morning by its fourth small earthquake in six days, but no injuries or major damage were reported.

Monday's quake, at magnitude 2.6, was the smallest in a recent series of temblors occurring along the Hayward fault, which runs underneath the east side of San Francisco Bay. Last week a pair of magnitude 3.7 quakes and a magnitude 3.5 temblor struck.

Seismologists said the activity is not unusual for the area and does not indicate that a major earthquake is on the way.

Major Earthquake Hits Kyrgyzstan

A earthquake measuring 7.0 on the Richter scale struck the central Asian country of Kyrgyzstan on Monday.

The epicentre of the quake was located 140 kilometre south-east of the capital city Bishkek, and was felt in neighbouring Kazakhstan.

No one was injured according to first reports. Kyrgyzstan's President Kurmanbek Bakiyev promised quick aid in repairing any possible damage.