Canadian 'Mask ban' bill nears final stage : Disguise Yourself, Get 10 Years Prison
A bill that would make it illegal to wear a mask during a violent demonstration is nearing its final hurdle in the House of Commons, with just two hours of debate left.

Bill C-309 would make it a crime for people rioting or at an unlawful protest to conceal their identities. It's already illegal to wear a disguise when committing an indictable, or more serious, offence, which includes rioting. Unlawful protests, however, don't fall under that law because they're classified as a summary conviction, or less serious, offence.

An unlawful assembly is a gathering that causes fear. It's up to city officials to decide what constitutes a riot.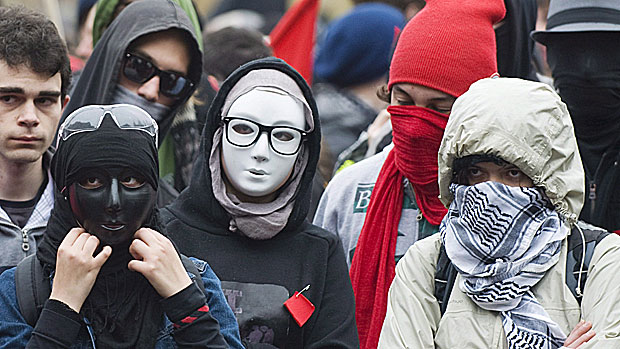 Masked protesters take part in an anti-capitalist demonstration in Montreal, Tuesday, May 1, 2012.



Last May, MPs on the House justice committee increased the penalty in the bill to 10 years for rioters who conceal their faces and five years for those at an unlawful protest. The maximum sentence for rioting is two years.

The committee sent the bill back to the House last May. Debate will resume Tuesday evening for an hour. MPs must vote on the changed bill before it can go on to the Senate to be studied in the Upper Chamber.

The second hour of debate is likely to be sometime in the next week, with a final vote at third reading expected at the end of October.

Blake Richards, the MP behind the bill, says he wanted to give police another tool to prosecute rioters and he was told the existing law was difficult to apply.

Earlier this year, the City of Montreal passed a bylaw to ban masks during protests. The move came amid massive student protests in Quebec over the then government's plan to allow universities to raise tuition fees.

Article from: cbc.ca





---


Toronto Police are investigating whether numerous officers on G20 duty failed to wear proper identification:
G20 "No-name officers" investigated

Amy Miller: Toronto Police at G20 Threatened us with Rape and Strip