Dead French Photographer was State Department-Funded – Embedded With Al Qaeda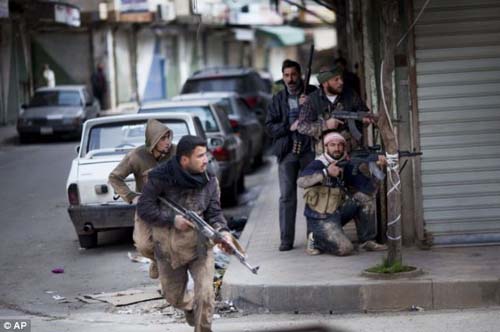 Further indication of the depraved nature of the West's campaign against Syria, and the depraved nature of its institutions, methods, and faux-NGOs, vindicating a growing trend of ejecting Western "journalists" and NGO's from an ever increasing number of nations, it is revealed that a French photographer recently killed in Syria was embedded with terrorist militants in Idlib, northern Syria, and was working on behalf of the US State Department's National Endowment for Democracy (NED) funded "Reporters Without Borders."

The UK Daily Mail revealed in their article, "French photographer killed by flying shrapnel in Syria as rebels launch fresh offensive on police academy in Aleppo," that:

A French photographer has been killed by flying shrapnel in Syria while covering operations of an armed opposition group.
The French government said today Olivier Voisin had been working for Reporters Without Borders near the northwestern city of Idlib.

Idlib, Syria, along with much of northern Syria is admittedly overrun by Al Qaeda. In fact, a recent Washington Post article stated that northern Syria was so overrun with Al Qaeda, that Western nations along with its Arab partners have decided to ship weapons in from Daraa in southern Syria. Of course, Daraa too is a long-time hotbed for extremist activity, including Al Qaeda, years before the so-called "uprising" even began.

The Post article titled, "In Syria, new influx of weapons to rebels tilts the battle against Assad," admits:

A surge of rebel advances in Syria is being fueled at least in part by an influx of heavy weaponry in a renewed effort by outside powers to arm moderates in the Free Syrian Army, according to Arab and rebel officials.
The new armaments, including anti-tank weapons and recoilless rifles, have been sent across the Jordanian border into the province of Daraa in recent weeks to counter the growing influence of Islamist extremist groups in the north of Syria by boosting more moderate groups fighting in the south, the officials say.


[...]

Read the full article at: infowars.ca




---


RIC Editor Note: "Reporters Without Borders"? More like "Reporters With Orders".

Reporters Without Borders, or RWB (French: Reporters sans frontières, or RSF) is "an international non-governmental organization devoted to freedom of the press".

Robert Menard, the Secretary General of RSF, was forced to confess that RSF's budget was primarily provided by "US organizations strictly linked with US foreign policy" (Thibodeau, La Presse).

NED (US$39,900 paid 14 Jan 2005)
Center for a Free Cuba (USAID and NED funded) $50,000 per year NED grant. Contract was signed by Otto Reich
European Union (1.2m Euro) -- currently contested in EU parliament
Rights & Democracy in 2004 supported Reporters Without Borders-Canada

Source: SourceWatch.org

Reporters Without Borders seems to have a geopolitical agenda
by F. William Engdahl