Dorner manhunt ends at burned-out cabin, Questions Remain


On the afternoon of February 12, police narrowed their search to a cabin in a wooded area:


Two deputies with the San Bernardino sheriff's department were shot and wounded in Big Bear, north-east of Los Angeles.

Local news reports said Dorner had broken into a home, tied up two people and stolen a pickup truck. Dorner was then confronted on a highway by fish and game wardens before fleeing on foot. He is now holed up in a cabin, according to the San Bernadino's sheriff's office.

News outlets, including CBS Los Angeles, aired the sounds of gunfire and shouting in live broadcasts from the Big Bear area.

Dorner is accused of targeting law enforcement officers and their families in three revenge-driven killings.
Source: The Guardian

As the shootout unfolded with Dorner reportedly barricaded inside the cabin, a deputy was killed, and eventually the cabin was engulfed in flames.

There were reports of a 'final shot being fired', which was assumed to be a 'suicide', and the cabin burned to the ground. No attempts were made to stop the blaze.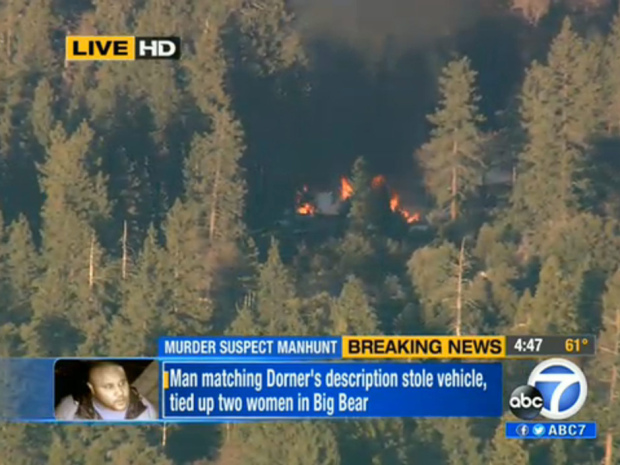 Initial reports spoke of a body, then NO body found, and it remained unclear until this morning when it was reported by Associated Press that remains were found in the cabin after investigation:


An official briefed on the investigation tells The Associated Press that a wallet with a California driver's license with the name Christopher Dorner has been found in the rubble of a cabin.

A charred body was also found inside after a shootout and fire.

Authorities believe the remains are those of the former Los Angeles police officer, but they have not been formally identified.

The official spoke on condition of anonymity because of the ongoing investigation and says the charred body and personal items were found in the basement of the burned cabin. The area is in the San Bernardino Mountains east of Los Angeles.

Two sheriff's deputies were also shot, one fatally. Dorner is also suspected of earlier killing a young couple and a police officer, and wounding two other officers.


From The National Post:


A single gunshot was heard from within. However, reports of a charred body found inside were later put into doubt by the LAPD who said it was too hot to search the cabin and that no body had been found.

That said, the police in the area are standing down and fire crews are moving in, implying that there is no longer a perceived threat.

If a body is found and proves to be Christopher Dorner, the search for the most wanted man in America over the last week would have ended the way he had expected — death, with the police pursuing him.


Attention has been called to Los Angeles Police Dept. officers' behaviour and procedures, not only in light of Dorner being a disgruntled whistleblower on police corruption, but also considering LAPD officers spraying bullets into houses and vehicles, injuring innocent people, when they suspected Dorner might be near.
It seemed to some that law enforcement were somewhat too keen to see Dorner silenced, instead of brought in for due process.

[See: Drones May Be Our Only Hope! Manhunt Causes Mayhem, Suspends Reason]

It's not clear who started the fire that consumed the cabin - Dorner, or the police?

Further, the body has so far been identified through the existence of the charred wallet. Why did a man attempting to evade police wear clear and obvious identification on his person?

Undoubtedly, suspicions will linger, especially in this case where even the alleged murder of innocent people by Dorner didn't diminish support he received for his stance on the perceived corruption and brutality of the LAPD.

Dorner's military career has gone largely unreported in the mainstream media. They refer to him as a 'former cop', but his military background is relevant. He was a well-decorated Naval Reserve Officer (Lieutenant) who was honourably discharged on February 1st of this year.

He received :


National Defense Service Medal
Iraq Campaign Medal
Global War on Terrorism Service Medal
Navy Sea Service Deployment Ribbon
Navy and Marine Corps Overseas Service Ribbon
Armed Forces Reserve Medal with "M" device
Navy Rifle Marksmanship Ribbon
Navy Expert Pistol Shot Medal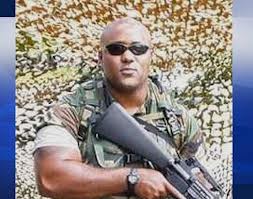 In addition, Ruth Fowler writes in CounterPunch.org an article that does not support Dorner, but analyzes his actions:


Dorner's manifesto has been dismissed as "rambling" and "incoherent" by most major news outlets, who ignore the fact that it's actually an articulate and thorough denunciation of police brutality...

[...]
Dorner:
"I am an American by choice, I am a son, I am a brother, I am a military service member, I am a man who has lost complete faith in the system, when the system betrayed, slandered, and libeled me. I lived a good life and though not a religious man I always stuck to my own personal code of ethics, ethos and always stuck to my shoreline and true North. I didn't need the US Navy to instill Honor, Courage, and Commitment in me but I thank them for re-enforcing it. It's in my DNA…"
---
"I have always been the top shot, highest score, an expert in rifle qualifications in every unit I've been in. I will utilize every bit of small arms training, demolition, ordnance, and survival training I've been given.

Do you know why we are unsuccessful in asymmetrical and guerrilla warfare in CENTCOM theatre of operations? I'll tell you. It's not the inefficiency of our combatant commanders, planning, readiness or training of troops. Much like the Vietnam war, ACM, AAF, foreign fighters, Jihadist, and JAM have nothing to lose. They embrace death as it is a way of life. I simply don't fear it. I am the walking exigent circumstance you created."



This complex case compels the public to reexamine their thoughts and emotions regarding gun violence, mentall illness, police behaviour, corruption, governmental and state powers, and military training and ethics butting up against real-world morality. Indeed, Dorner claimed in his manifesto that he would readjust "to correct and calibrate your moral compasses to true north". If nothing else, the whole situation has people thinking.

Fowler concludes:


"It's interesting that America does not want to understand why our serial killers and our gunmen do what they do. After every tragedy, newspaper articles ask "Why", and yet now, when we have an alleged killer who has answered the "Why" for us, we dismiss his explanation, replacing it with our own: He is simply crazy.
We want to believe killers are 'crazy', a catch all word where we consign everyone who enacts violence which has not been sanctioned by the government to the realm of the mentally ill, and revere those who enact violence in the name of the state as good, law abiding citizens who deserve the power to decide who lives and who dies."


On February 9, 2013, the LAPD announced that it would reopen the disciplinary proceedings that led to Dorner's firing.

By Elizabeth Leafloor, Red Ice Creations





---
Sources:
NationalPost.com
Guardian.co.uk
Wikipedia - Christopher Dorner
HuffingtonPost.com
CounterPunch.org