Gaddafi killed by French agent, Sarkozy?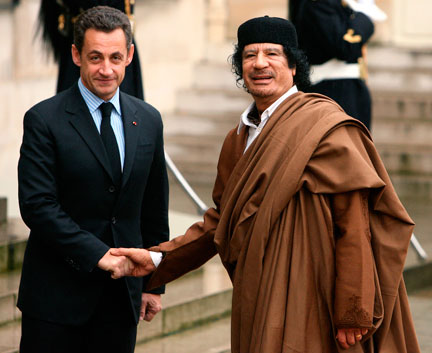 New reports claim that former Libyan leader Muammar Gaddafi was killed by a French agent who infilitrated the lynch mob which caught Gaddafi in Sirte. The killing was allegedly ordered by former French President Nicolas Sarkozy.

In March 2011 Saif al-Islam Gaddafi gave an interview in which he revealed Libya had funded the Nikolas Sarkozy election campaign in 2007. According to All Africa Sarkozy ordered Gaddafi's death as the Libyan leader threatened to publish proof of his claims.

Furthermore, according to a report in the Telegraph which cites Rami El Obeidi, former head of Libya's NTC Intelligence as the source, Gaddafi was betrayed by fellow dictator President Bashar al-Assad, leader of Syria. Assad provided Gaddafi's satelite telephone number which allowed agents to track him down.

El Obeidi told the Telegraph: "In exchange for this information, Assad had obtained a promise of a grace period from the French and less political pressure on the regime – which is what happened."

El Obeidi went on to say "French intelligence played a direct role in the death of Gaddafi, including his killing," by directing Libyan militamen to an area they could ambush Gaddafi's convoy.

As Digital Journal reported following the murder of Muammer Gaddafi "Sarkozy had a few issues with Muammar Gaddafi too. At the very least he wasn't too keen on Gaddafi's claims that he had helped to finance his presidential election campaign. Of course it could be coincidence that French fighter planes were involved in targeting the Gaddafi convoy that tried to slip out of Sirte at dawn on the morning of Gaddafi's death, apparently waving white flags of surrender."

According to Intrepid Reporter the Gaddafi convoy, complete with white flags, was tracked by a CIA Predator drone and then "French and other NATO jets pounded the convoy."

All Africa report that former Libyan interim Prime Minister, Mahmoud Jibril, who was in charge of Libya at the time of Gaddafi's murder, confirmed to Egyptian television that Gaddafi's killer was "a foreign agent who mixed with the revolutionary brigades."

Also, Western diplomats told Italy's Corriere della Sera that the killer was "almost certainly French" and that "Sarkozy had every reason to want to get rid of the colonel as quickly as possible".

Article from: digitaljournal.com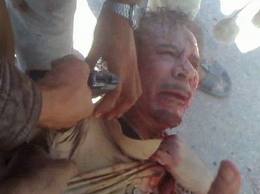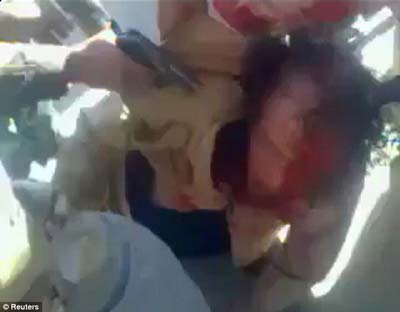 ---



Reports that French agent killed Gaddafi 'nonsense' says French Intelligence Expert


From: France24.com

A French intelligence expert has poured cold water on allegations that a French agent killed Libyan leader Muammar Gaddafi after making a deal with Syria to save then-President Nicolas Sarkozy from embarrassing campaign-funding revelations.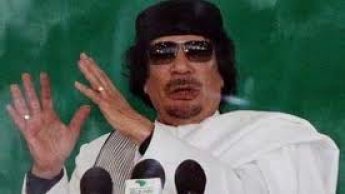 Reports that Libyan dictator Muammar Gaddafi was killed by a French operative after Syrian leader Bashar al-Assad sold vital intelligence to Paris are "patent nonsense", according to a leading French intelligence expert.

Mahmoud Jibril, who led Libya's first post-Gaddafi government in 2011, told Egyptian television channel Dream TV last week that "a foreign agent infiltrated the [rebel] Revolutionary Brigades in order to kill Gaddafi."

Jibril now heads the National Forces Alliance, one of Libya's largest political groups, as the country works to produce a constitution ahead of elections expected in 2013.

Following his interview, Italian daily Corriere della Sera quoted unnamed Western diplomats saying that if Gaddafi had been killed by a foreign agent, "he would almost certainly have been French."

These diplomatic sources went on to explain that the then French President, Nicolas Sarkozy, wanted the Libyan strongman out of the way after he threatened to reveal large cash donations to Sarkozy's 2007 presidential campaign.

Meanwhile on Sunday, the UK's Daily Telegraph quoted former Libyan rebel intelligence chief Rami el-Obeidi saying that the Syrian government had sold Gaddafi's satellite telephone number to French intelligence services, allowing them to track Gaddafi's every move.

El-Obeidi told the newspaper that Syrian leader Bashar al-Assad, himself battling a growing rebellion at home, had cooperated with Paris in exchange for an easing of pressure on his regime amid an increasingly brutal crackdown that was rapidly escalating into civil war.

"In exchange for this information, Assad obtained a promise of grace from the French and less political pressure on his regime," said el-Obeidi, who was head of Libyan rebel intelligence until he fell from grace after the mysterious death of General Abdel Fattah Younes, the commander of rebel forces fighting the Gaddafi regime, in July 2011.

'Exclusively French' operation

According to NATO's official version of events that led to Gaddafi's killing, an RAF aircraft spotted a convoy leaving the dictator's home town Sirte in October 2011.

Officially unaware who was travelling in that convoy, NATO planes bombed it anyway, and Gaddafi was found by rebel fighters hiding in a nearby drainpipe. He was killed, apparently by his captors, as he was being taken away.

According to el-Obeidi, the operation to target and kill him was "exclusively French" despite the presence of Turkish and British SAS special forces in the vicinity.

"French intelligence played a direct role in the death of Gaddafi, including his killing," he said.

However, according to French defence analyst and former intelligence officer Eric Dénécé, none of these allegations – especially that Syria had given Paris Gaddafi's satellite phone number in return for leniency - add up.

Pointing out that in November 2011 France's stance towards Syria actually toughened, with Paris being the first country to recognise the rebel Syrian National Council, Dénécé told FRANCE 24 the allegations were "a hoax - patent nonsense."

"France did not need Syria's help to track Gaddafi and Assad would certainly not have sold his telephone number in such a way," said the former intelligence officer who now heads the French Centre for Intelligence Research (CF2R).

Neither Mahmoud Jibril nor el-Obeidi was a credible spokesperson, he said, accusing both of trying to dominate the media spotlight as Libya's new leadership and government takes shape.

"Frankly, it was never going to be allegations of campaign financing from Gaddafi that would bring Sarkozy down," he added. "This would not be a strong enough motive to order his assassination."

FRANCE 24 contacted the French defence ministry, which refused to make any comment on the reports.

Article from: france24.com