Gun Control Won't Stop the Government From Killing, at Home or Abroad
An official policy of murder.
No matter where you stand on the "gun debates" which have intensified after the latest terrible massacre in the US, the discussion seems moot when the US government is discussing it's own plans to kill people around the world, or even citizens at home. There is profound hypocrisy in a government (and a people) pressing for increased gun control when they don't seem intent in controlling themselves or their high-tech extra-judicial lethal weapons.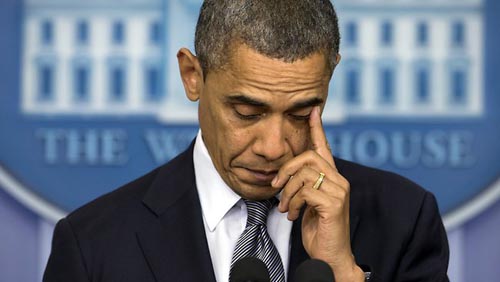 "President Barack Obama wipes his eye as he talks about the Connecticut elementary school shooting, Friday, Dec. 14, 2012, in the White House briefing room in Washington."
Does he shed a tear for the 'collateral' child victims in his drone wars?
---


Obama's "Rules" for Killing People with Drones - TheRealNews.com
Michael Ratner: Pres. Obama debating rules that allow him to kill extra-judicially anyone considered an enemy combatant anywhere in the world including US citizens and by logical extension, within the United States.



From: Youtube.com/TheRealNews





---
Drone Carnage, Children Slaughtered: The Moral Question Obama Can't Evade