Pope Benedict Will Keep the Name But Lose the Shoes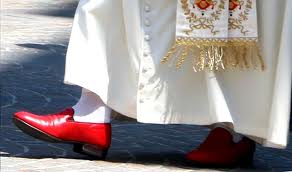 Along with many secrets, Pope Benedict will apparently be keeping his titles and honorifics.
However, he will be losing the material fripperies of office.
In the grand scheme of things, shoes are considered mundane, necessary items, but Benedict's distinctive shoes received such scrutiny because of the symbolism involved in the choice of colour - blood.


What is it about red shoes? Conjuring multiple images and responses like black or blue shoes never could, red shoes connect literature, fashion, and dress through meanings that are uniquely personal yet resonant across wider cultural and social groups. These symbolic meanings of red shoes are powerful, partly because they are encountered in childhood stories, partly because they are reiterated by fashion, which capitalizes on and reinterprets these meanings, and partly because we can choose to wear them, contributing both to their vitality and our self-image, in ambiguous but evocative ways. Red shoes are never neutral.
Source
Red is the color of fire and blood, so it is associated with energy, war, danger, strength, power, determination as well as passion, desire, and love.

Red is a very emotionally intense color. It enhances human metabolism, increases respiration rate, and raises blood pressure. It has very high visibility, which is why stop signs, stoplights, and fire equipment are usually painted red. In heraldry, red is used to indicate courage.

Dark red is associated with vigor, willpower, rage, anger, leadership, courage, longing, malice, and wrath.
Source
---



Benedict XVI Will Keep His Name But Lose His Red Shoes


From: Who 2 Biographies

Pope Benedict XVI will remain Benedict XVI after stepping down, with the title of "pope emeritus," said the Vatican today. He will also continue to be called His Holiness.

Not that resignation doesn't come with a price:


Benedict XVI will give up wearing his specially-made red leather loafers, instead wearing brown shoes hand made for him by a Mexican craftsman during a brief visit to Mexico last year, Vatican spokesman Federico Lombardi said on Tuesday.


Ouch! Those red loafers were a sweet ride.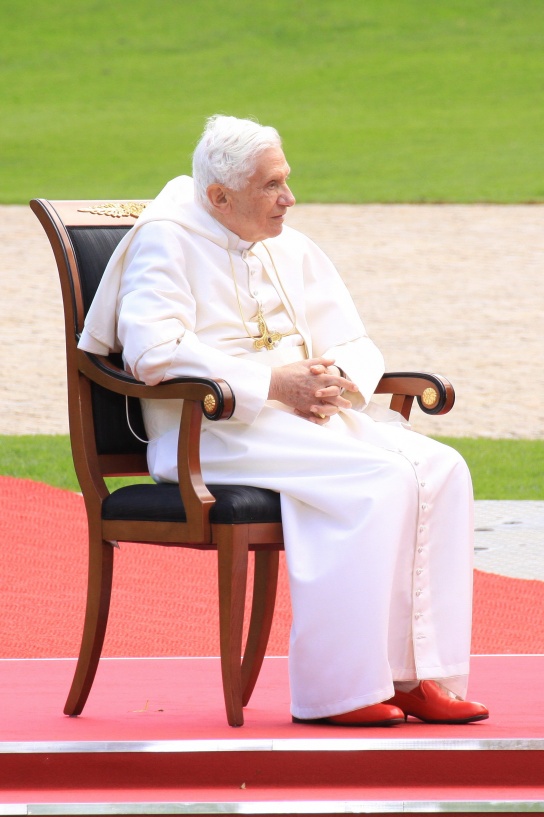 They weren't made by Prada (as rumor had it) but they were hand-crafted by Milanese cobbler Adriano Stefanelli. The red is said to symbolize the blood of Christian martyrs.

In recent appearances, Benedict XVI has gone to more of a pair of thick-soled mall-walkers.

The indignities of age. Still nice, just not stylin'.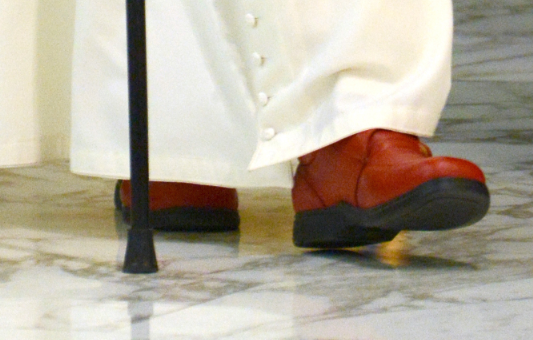 Benedict XVI will also lose two other key accessories: his Fisherman's Ring and papal seal. Both will be destroyed by the Vatican.

Article from: who2.com




---
With only two full days left of Pope Benedict XVI's papacy, more details emerged Tuesday of what the future holds both for the retiring pontiff and the cardinals who will choose his successor.

The pontiff will keep the name Benedict XVI and still be addressed as "his holiness" once he retires, Vatican spokesman Federico Lombardi told reporters at the Vatican.

He will also be known as pope emeritus, emeritus pope or Roman pontifex emeritus.

[...]

At the moment that Benedict's papacy ends, at 8 p.m. local time, the Swiss Guards -- the soldiers who for more than five centuries have protected the pope and his residence -- will leave the gates of Castel Gandolfo. He will from that point have Vatican police protection instead.

[...]

After his resignation, Benedict -- who cited the frailty of age as the reason he resigned -- will no longer use the Fisherman's Ring, the symbol of the pope, Lombardi said. The ring will be destroyed, along with Benedict's papal seal, after his departure from office.

He will wear a simple white cassock, without the customary red mantle of the pontiff. He will also no longer wear red shoes, probably adopting instead the brown shoes that he received as a gift in Leon, Mexico, during a trip last year.
Source: CNN
---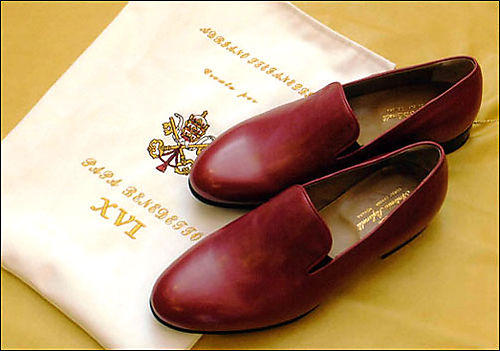 Benedict XVI's red loafers have drawn attention since he became Pope in 2005.

Dubbed the "Prada Pope" after the supposed maker of the shoes, Benedict has been seen wearing the ruby red shoes during his trips and other important events.

The loafers are seen as a statement of his desire to demonstrate continuity with the symbols and history of the Church.

His predecessor, Pope John Paul II, wore brown shoes, which stood out. Though wearing red shoes is a papal tradition, the practice is optional.

Theology Professor Lawrence Cunningham of Notre Dame, in a podcast for NPR.org, said the Pope's red shoes symbolize the blood of martyrdom.

"Traditionally, in the Catholic Church, the color red commemorates the blood of martyrdom ... Fire and red are identified with the Holy Spirit," Cunnigham said.

The shoes cost around $640 a pair, but the Pope gets them for free.
Source: Inquirer.net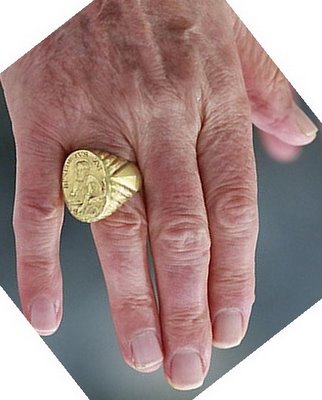 The Ring of the Fisherman is an official part of the regalia worn by the Pope, who is head of the Catholic Church and successor of Saint Peter, who was a fisherman by trade. It features a bas-relief of Peter fishing from a boat, a symbolism derived from the tradition that the apostles were "fishers of men" (Mark 1:17). The Fisherman's Ring is a signet used until 1842 to seal official documents signed by the Pope.

A new ring is cast in gold for each Pope. Around the relief image is the reigning Pope's Latin name in raised lettering. During the ceremony of a Papal coronation or Papal inauguration, the Dean of the College of Cardinals slips the ring on the third finger of the new Pope's right hand. Upon a papal death, the ring is ceremonially broken in the presence of other Cardinals by the Camerlengo, in order to prevent the sealing of backdated, forged documents during the interregnum, or sede vacante. This custom is also planned to be followed after the resignation of Pope Benedict XVI. (Source: Wikipedia)
---
Tune into Red Ice Radio:
Tom Horn - Hour 1 - Papal Resignation, Petrus Romanus & Exo Vaticana
Lynn Picknett - Lucifer Revised
Michael Hoffman - Hour 1 - Abdication of the Pope & Usury in Christendom
Tom Horn - Petrus Romanus: The Final Pope & Vatican Luciferians - The Full Two Hour Interview
Tom Horn - Apollyon Rising 2012 & The Return of The Gods
Tom Horn - Nephilim Stargates: The Year 2012 and the Return of the Watchers
William H. Kennedy - Satanism, Ritual Abuse & Pedophilia in the Roman Catholic Church
Philip Willan - The Last Supper, Vatican, Masons, P2, Mafia & the Murder of Roberto Calvi