Prisoner smuggles sperm out to wife, has son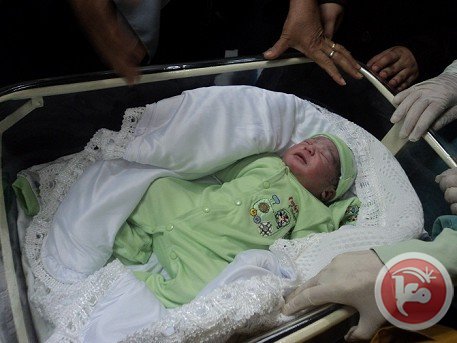 A baby boy has been born by Caesarian section, the product of a successful smuggling attempt by a Palestinian prisoner who managed to sneak out a sperm sample to his wife.

Baby Muhannad was born in a Nablus hospital yesterday to Dallal Ziben, a 32-year-old mother-of-two from a village in the northern West Bank, whose husband Ammar is currently serving 32 life sentences in an Israeli prison.

Palestinians are not permitted to receive conjugal visits, and although Dallal Ziben has not set eyes on her husband for 15 years, she says she fell pregnant after being artificially inseminated by sperm her 37-year-old husband managed to sneak out of Hadarim prison in central Israel.

"Praise be to Allah who has blessed us after a long absence with my husband in prison," Mrs Ziben said shortly before going in for an elective Caesarean.

"My husband and I, our two girls and the family have been waiting for this for such a long time," she said.

[...]

Details of how the sperm was smuggled out of the prison were kept a closely guarded secret, with the family refusing to give the slightest information.

A spokeswoman for the Israel Prisons Service said she was not aware of the pregnancy, and that security prisoners were not allowed conjugal visits, with the Palestinian Prisoners' Club confirming the same information.

"Visits by prisoners' wives are closely supervised by prison guards and there is no way a prisoner could get time alone with his wife," said a Nablus-based spokesman.

Dr Saalem Abu al-Kheizaran, head of the Razan fertility clinic in Nablus which carried out the insemination procedure, said the sperm had been subjected to a gender separation process to ensure the couple would have a son.

"We received a sample of sperm from the husband in a reliable and clinically secure way," he said, without going into details.

"The couple wanted a baby boy, so we carried out a gender separation procedure. We tried the insemination process three times from the same sample, but the first two attempts failed," he said.

Abu al-Kheizaran said the right to have a baby was a universal human right.

"For us it is a humanitarian issue - everyone has the right to be a parent. Prison must not stand in the way of this right," he said.

[...]

Read the full article at: heraldsun.com.au





---
Con's Wife Faces Sperm-Smuggling Charges
When Regina Granato speaks of her 3 ½-year-old daughter, Gianna, she sounds like any proud mother. "I've been touched by an angel," she says. But there's a cloud over Gianna's birth. Regina has been indicted by the federal government and could face years behind bars — for having her baby.

Here's the problem — as far as law enforcement sees it. Gianna's father and Regina's husband is Kevin Granato. He is an inmate at the Allenwood Federal Penitentiary in Pennsylvania. Kevin Granato was convicted of a string of mob-related crimes involving racketeering, extortion, assault and drug trafficking stemming from his connection with New York's notorious Colombo organized crime family.

Here's the paternity riddle. Granato is indeed Gianna's father, but he's been serving time at Allenwood since the early 1990s and, as per rules for all federal prisoners, has not been allowed conjugal visits with his wife since then. Yet Gianna was born in 1999.

'I'm Not a Criminal'

But Regina Granato doesn't see the problem. "God gave me that baby. She's here now; people need to accept it, you know, she's a human life; she's a little girl who's very loving and caring," Regina said.

"I'm not a criminal, I don't deserve to go to prison, you know, I feel I did nothing wrong. I can't see how anyone would want to put me in prison," she said.

With Regina's then 35-year-old biological clock ticking away, and with Kevin still facing many more years behind bars, Regina was desperate. So they figured out a plan to get Kevin's sperm out of prison, and into Regina. And it worked.

"My age was creeping up, my ovaries were failing, I had an ovary removed, and I knew, you know, I had to make a move, and I wanted to be a mother," Regina said.

You can imagine the scene in prison on visiting day when Regina suddenly showed up with a baby — Kevin's baby.

Regina said the prison guards were scratching their heads, but none of them asked her any questions about the baby. And she never thought that she'd land in any sort of trouble for the strangely orchestrated pregnancy.

"I just thought about having that baby in my arms, and that was it. I really never thought about it. I didn't," she said.

But prison authorities certainly did. They didn't know exactly how the Granatos did it. Kevin has refused to tell them so he was thrown into solitary confinement, allowed no visitors and just one phone call a month.
Source: ABCNews