Rome police say package that prompted terror scare was a fake
Police said Tuesday a suspicious package full of wires and powder that prompted a terror scare in Rome's subway during the Christmas season was a fake made out of cement-like powder, not explosives.

The device was found at around 10 a.m. (0900GMT) on Tuesday inside a train at Rome's Rebibbia station, on the outskirts of the Italian capital. The subway car was at the end of the line and empty when the package was found, said Atac, which runs the Rome subway.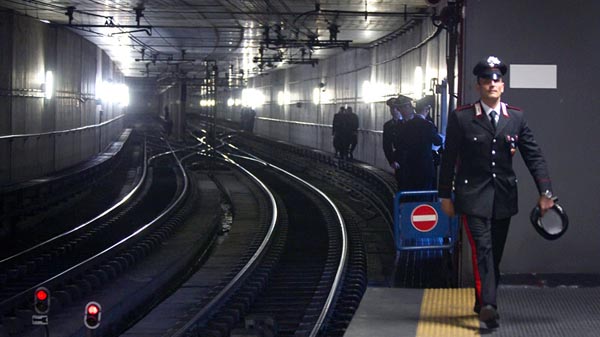 Police officers patrol the access to the rails at the subway station of Rebibbia after a bomb scare in Rome Tuesday, Dec. 21, 2010. (AP / Angelo Carconi)


Bomb-disposal experts checked the powder and concluded it was inert and that there was no trigger mechanism among the wires, carabinieri police said in a statement. Spokesman Sgt. Agostino Vitolo said the black powder found in metal tubes was "very much like cement."

Rome Mayor Gianni Alemanno said the city could "breath a sigh of relief."

"It's a bluff, a provocation in bad taste that regardless showed there was no danger of attacks in our city," he said in a statement.

He told reporters the device was "a fake," even if it looked threatening.

Various Italian agencies joined the investigation, but there was no indication they had any clues about who left the device.

Atac said in a statement the train was in an area beyond the platform that is used for manoeuvring when the device was found.

Spokeswoman Diana Formaggio said that the station was never closed and service was not interrupted. The train in question went back into service as soon as the package was removed, said carabinieri Lt. Col. Bruno Bellini.

There have been growing concerns in Europe about holiday season attacks following a suicide bombing in Sweden and security services' fears of an assault on a European city modeled on the deadly shooting spree in Mumbai, India.

Read the full article at: news.sympatico.ca