Scientist who worked for gov't accused of spying
A scientist credited with helping discover evidence of water on the moon was arrested Monday on charges of attempting to pass along classified information to an FBI agent posing as an Israeli intelligence officer.

Stewart David Nozette, 52, of Chevy Chase, Md., was charged in a criminal complaint with attempting to communicate, deliver and transmit classified information, the Justice Department said.

Nozette was arrested by FBI agents and is expected to make his initial appearance in federal court in Washington on Tuesday. Law enforcement officials said Nozette did not immediately have a lawyer.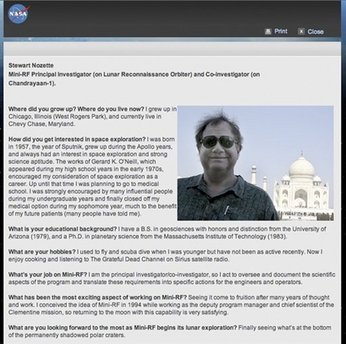 This screen shot taken from NASA's web site shows Stewart Nozette. Nozette, a scientist who worked for the Defense Department, a White House space council and other agencies including NASA was arrested Monday Oct. 19, 2009 on charges of attempting to pass along classified information to an FBI agent posing as an Israeli intelligence officer. (AP Photo/NASA)


Nozette worked in varying jobs for the Energy Department, NASA and — in 1989 and 1990 — the National Space Council in the president's office. He developed the Clementine bi-static radar experiment that is credited with discovering water on the south pole of the moon. He also worked at the Energy Department's Lawrence Livermore National Laboratory, where he designed highly advanced technology, from approximately 1990 to 1999.

At Energy, Nozette held a special security clearance equivalent to the Defense Department's top secret and "critical nuclear weapon design information" clearances. DOE clearances apply to access to information specifically relating to atomic or nuclear-related materials.

Nozette also held top offices at the Alliance for Competitive Technology, a nonprofit corporation that he organized. Between January 2000 and February 2006, Nozette, through his company, had several agreements to develop advanced technology for the U.S. government.

An affidavit suggests why FBI agents posed as agents of the Israeli intelligence agency Mossad to conduct the sting operation.

From 1998 to 2008, the complaint alleges, Nozette was a technical adviser for a consultant company that was wholly owned by the Israeli government. Nozette was paid about $225,000 over that period, the court papers say.

Then, in January of this year, Nozette allegedly traveled to another foreign country with two computer thumb drives and apparently did not return with them. Prosecutors also quote an unnamed colleague of Nozette who said the scientist said that if the U.S. government ever tried to put him in jail for an unrelated criminal offense, he would go to Israel or another foreign country and "tell them everything" he knows.

The complaint does not allege that the government of Israel or anyone acting on its behalf violated U.S. law. In Jerusalem, Israeli government officials had no immediate comment.

The affidavit by FBI agent Leslie Martell said that on Sept. 3, Nozette received a telephone call from an individual purporting to be an Israeli intelligence officer. The caller was an undercover FBI agent.

Nozette agreed to meet with the agent later that day at a hotel in Washington and in the subsequent meeting the two discussed Nozette's willingness to work for Israeli intelligence, the affidavit said.

Nozette allegedly informed the agent that he had, in the past, held top security clearances and had access to U.S. satellite information, the affidavit said.

The scientist also allegedly said that he would be willing to answer questions about this information in exchange for money. The agent explained that the Israeli intelligence agency, Mossad, would arrange for a communication system so Nozette could pass on information in a post office box.

Nozette agreed to provide regular, continuing information and asked for an Israeli passport, the affidavit alleged.

According to the court papers, Nozette and the undercover agent met soon afterward in the same hotel, where the scientist allegedly said that while he no longer had legal access to any classified information at a U.S. government facility, he could, nonetheless, recall classified information by memory. Nozette allegedly asked when he could expect to receive his first payment, saying he preferred cash amounts "under ten thousand" so he didn't have to report it.

Nozette allegedly told the agent, "Well, I should tell you my first need is that they should figure out how to pay me ... they don't expect me to do this for free."

About a week later, FBI agents left a letter in the designated post office box, asking Nozette to answer a list of questions about U.S. satellite information. The agents provided a $2,000 cash payment. Serial numbers of the bills were recorded.

Nozette was later captured on videotape leaving a manila envelope in the post office box. The next day, agents retrieved the sealed envelope and found, among other things, a one-page document containing answers to the questions and an encrypted computer thumb drive.
One answer contained information classified as secret, which concerned capabilities of a prototype overhead collection system. Nozette allegedly offered to reveal additional classified information that directly concerned nuclear weaponry, military spacecraft or satellites, and other major weapons systems.

Agents left a second letter in the post office box with another list of questions about U.S. satellite information. The FBI also left a cash payment of $9,000. Nozette allegedly retrieved the questions and the money the same day.

Again, authorities say, Nozette was videotaped leaving a manila envelope in the post office box. FBI agents retrieved it and found a second set of answers. The responses contained information classified as both top secret and secret, on U.S. satellites, early warning systems, means of defense or retaliation against large-scale attack, communications intelligence information, and major elements of defense strategy.

Nozette performed some of this research and development at the U.S. Naval Research Laboratory in Washington, the Defense Advanced Research Projects Agency in Arlington, Va., and the National Aeronautics and Space Administration Goddard Space Flight Center in Greenbelt, Md.

Article from: YahooNews.com