Top Cuban official says Obama lied in Copenhagen
Cuba's foreign minister called President Barack Obama an "imperial and arrogant" liar Monday for his conduct at the U.N. climate conference, a reflection of the communist island's increasingly fiery verbal attacks on the U.S. government.

Bruno Rodriguez spent an hour and a half lambasting Obama's behavior in Copenhagen, telling a news conference, "at this summit, there was only imperial, arrogant Obama, who does not listen, who imposes his positions and even threatens developing countries."

He called the summit "a fallacy, a farce" and said Washington used back-room deals and strong-arm tactics to foist on the world a deal that he labeled "undemocratic" and "suicidal" because it urges — but does not require — major polluters to make deeper emissions cuts.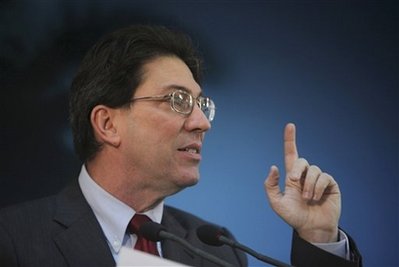 Cuba's Foreign Minister Bruno Rodriguez gestures during a press conference in Havana, Monday, Dec. 21, 2009. Rodriguez called President Barack Obama an 'imperial and arrogant' liar Monday for his conduct at the U.N. climate conference, a reflection of the communist island's increasingly fiery verbal attacks on the U.S. government. (AP Photo/Ariana Cubillos)


Rodriguez also said Cuba and other poor nations have refused to recognize the agreement because they weren't permitted to participate in its development.

He singled out comments Obama made during a news conference in Copenhagen, when the U.S. president said no agreement had yet been reached but he was confident one would before the summit ended. "Obama knew he was lying, that he was deceiving public opinion," the foreign minister said.

When asked if Cuba was serious about forging a climate agreement given that President Raul Castro declared Copenhagen a failure days before it ended, Rodriguez said, "Cuba's prestige is well-recognized in international negotiations."

"It was an open secret that countries would not reach an agreement," he said.

Rodriguez would not answer questions about the status of an American citizen who was detained in Cuba on Dec. 5 while working as a U.S. government contractor.

Castro first publicly mentioned the detention Sunday, when he told the Cuban Parliament that the American was arrested for distributing illegal satellite communications equipment.

"The United States won't quit trying to destroy the revolution," Castro said, referring to the armed rebellion that brought his brother Fidel to power on New Year's Day 1959.

"In the past few weeks we have witnessed the stepping up of the new administration's efforts in this area," he said, adding that the arrest "demonstrates that the enemy is as active as ever."
American diplomats in Cuba have requested — but not yet received — Cuba's permission for consular access to the detainee, whose name has not been released. Rodriguez refused to say whether his office would grant the request.

Rodriguez's comments Monday echoed remarks by former President Fidel Castro, who in a weekend opinion column called Obama's speech in Copenhagen "deceitful, demagogic and full of ambiguities."

Last week, the elder Castro, who stepped down as head of state in February 2008, wrote that Washington is looking to solidify its control over Latin America and that Obama's "friendly smile and African-American face" hide his government's sinister true intentions for the region.

Raul Castro over the weekend mentioned recent war games Cuba conducted to prepare for a U.S. invasion and hinted that the contractor's arrest shows further American aggression against his country is a real possibility.

"I just want to note that here we have a people who are ready to protect, at any price, the successes of the revolution," he said. "I'd advise one and all that they cease provocations of this type."

Article from: YahooNews.com