Zero Dark Thirty: Bin Laden Revisted – Hollywood Style
According to Deadline Hollywood, the New York Film Critics Circle has named Kathryn Bigelow's Zero Dark Thirty its film of the year in voting going on right now in New York.

Just in time for the holidays, the film presents the dumbed-down American public with yet another ample opportunity to wrap itself tightly in the flag and worship at the alter of Hollywood propaganda. With all the hype, and with the dutiful mainstream press falling in line to gush over the film, one wonders if anyone will care that it's mostly all Pentagon-seeded garbage. For starters, the picture you see here of the folks at the White House pretending to be watching the Bin Laden raid, it was staged.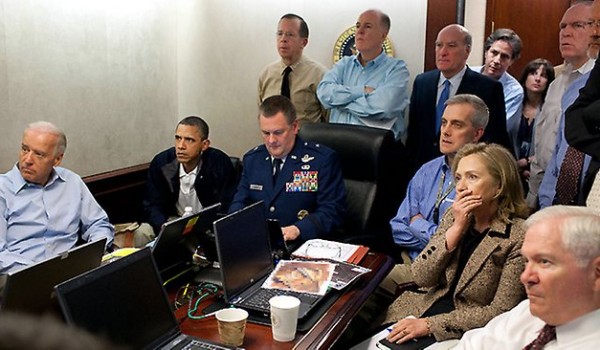 As we've seen with the Jessica Lynch story, the Pat Tillman story and the official 9/11 narrative, the Pentagon has a long history of being truth challenged.

One wonders what tiny percentage of the Zero Dark Thirty audience will recollect or care, that against all odds and statistical actuary tables 22 members of the same "SEAL Team 6″ unit which was reportedly involved in the 'Bin Laden raid' met untimely deaths in a chopper explosion just weeks after the raid – in what many suspect was a "hit" to extinguish the truth. As Fox News reported:


Insurgents shot down a U.S. military helicopter during fighting in eastern Afghanistan, killing 30 Americans, most of them belonging to the same elite unit as the Navy SEALs who killed former Al Qaeda leader Usama bin Laden, U.S. officials said Saturday. It was the deadliest single loss for American forces in the decade-old war against the Taliban.


One wonders if the American movie going public knows or even cares that the "official" White House version of the events of the Bin Laden raid – has done nothing but change since the event was initially reported to the world.

Does the American public actually believe that the most prized target in the never ending 'War on Terror', Osama Bin Laden, was successfully located and killed by SEAL team 6, and then in some moment of uncharacteristic empathy for the religion of Islam and the entire Muslim world, the decision was made to fly his body to a waiting US warship so it could be tossed overboard "in accordance with Islamic tradition"? When exactly did the Pentagon start giving a damn about Islamic tradition?



[...]

Read the full article at: prisonplanet.com





---


RIC: Thinking of going to see "Zero Point Thirty"? Save yourself a few bucks and simply watch "Team America: World Police". It can't be any further from the truth than whatever the Pentagon has conjured up in its 'approved' propaganda-fairytale.

~E