Arab Prince Donates $440 Million to Vaccine Industry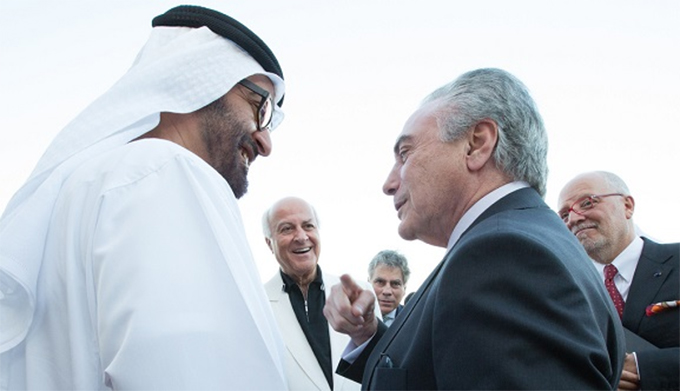 While Mohammed bin Zayed isn't exactly Bill Gates, since 2013, his donation to the vaccine industry of almost a half a billion dollars is by no means a drop in the proverbial bucket. His contribution, which focuses on children in Afganistan and Pakistan, will be used to give 10.673 million children polio vaccines (source).


UAE PAP has announced the launch of the programme, under the slogan 'Health for All – Better Future", which is in implementation of the directives of the President His Highness Shaikh Khalifa bin Zayed Al Nahyan for providing humanitarian and developmental assistance to the friendly people of Pakistan, and as part of an initiative launched by His Highness Shaikh Mohammed bin Zayed Al Nahyan, Crown Prince of Abu Dhabi and Deputy Supreme Commander of the UAE Armed Forces, to eradicate polio in the world.

About 25 million vaccination doses will be administered as part of the programme which seeks to support health awareness in Pakistan, reduce the spread of epidemics, and prevent the suffering of children in affected areas from poor health.

The campaign includes the geographical coverage of 66 areas, 15 of them in the region's tribal areas, 25 districts in Khyber Pakhtunkhwa and 12 regions in the province of Balochistan, as well as the Karachi district in Sindh province.

Efforts of the vaccination teams will include the administration of three consecutive vaccination doses to 10.673 million children from March to May 2016.


The polio vaccine has been proven to cause polio. This is due to giving children live polio vaccines which then end up in the sewage and drinking water of impoverished regions.


The interesting thing now, however, is that polio isn't gone. And that might not have as much to do with the unvaccinated and unsanitary as it does with the vaccinated themselves. We are consistently led to believe that polio's near eradication is only 'near' due to limited vaccine availability. But now mainstream researchers are beginning to see a trend: that the polio cases which are occurring are being spawned from the polio vaccines themselves. The vaccines pitched as a way to stop polio are merely fueling it's existence. Look at what the head of virology at National Institute for Biological Standards and Control in the United Kingdom, Phillip Minor, told Vox.com.

"Sooner or later you get to the point — in theory you get to the point — where all the [polio] cases in the world are caused by the vaccine," Philip Minor, the head of virology at National Institute for Biological Standards and Control in the United Kingdom, tells me. "So you are basically using the vaccine to protect against the vaccine. And that is just ludicrous, isn't it?"


Substantial donations would only cause an even worse situation with polio because the regions which are being donated to don't have clean water. Why not give all this money to better irrigation systems that could prevent flooding? The money could be used to create clean water projects. Maybe even reconstruct sewage lines, so they are safer from acting as contaminants to clean water. But really, there is no money in the cure. The polio vaccines could end up spreading more polio, which means more donations to pharmaceutical companies. Do you think the pharmaceutical companies are doing this purely out of philanthropy? Nope, they are doing it to increase revenues. This is all about the bottom line. With people such as Gates and Al-Nahyan in our world who have endless amounts of cash, the proposition of pharma ever going broke is not likely at all.

Source: truthkings.com