Nancy Schaefer who Exposed the Child Protection Services (CPS) found Shot Dead with Her Husband


A speech given by Nancy Schaefer on Child Protection Services The System Can Not be trusted It does not serve The People of USA

Nancy Schaefer sought to expose the stealing of children by the "child protection" mafia



Child Protection Campaigner, Former State Senator Nancy Schaefer, is Found Shot Dead With Her Husband



From: gainesvilletimes.com

Finances believed to be linked to shooting death of former state senator and her spouse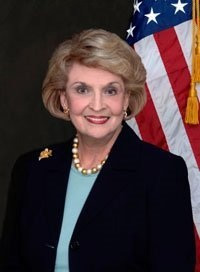 Troubled by financial problems, the husband of former state Sen. Nancy Schaefer shot his wife to death as she lay sleeping Friday morning before turning the gun on himself, authorities said Saturday.

Habersham County Sheriff Joey Terrell said Bruce and Nancy Schaefer´s daughter, who lives in the same gated community as the Schaefers, discovered their bodies in a bedroom about 5:30 p.m. Friday. He said a handgun was used in the shootings and was found near Bruce Schaefer´s body.

An autopsy showed Nancy Schaefer died from a gunshot wound to the back and that Bruce Schaefer died from a gunshot wound to the chest.

Authorities believe Nancy Schaefer was asleep when she was shot, probably sometime Friday morning, Terrell said.

Several notes written by Bruce Schaefer were left behind.

"Some financial problems were mentioned," Terrell said. "That might have been one reason."

Contrary to previous reports, Bruce Schaefer, 74, was not suffering from any serious illnesses at the time of the shootings, their daughter told the sheriff. Authorities were unaware of Nancy Schaefer, 73, having any major health problems, Terrell said.

News of the prominent conservative Republican´s sudden death was met by Habersham County residents with "utter shock," said State Rep. Rick Austin, who represents Habersham County and part of White County. Austin announced her death from the House floor Friday evening.

"It´s just utter disbelief," Austin said Saturday. "You never know. If there was a family that you would have thought would be very much immune to something like this, it would have been that family. People are deeply saddened. It´s just a terrible tragedy."

Austin, who knew Schaefer for several years, described the former lawmaker as "a great, graceful lady, who was very involved in her community and very passionate about the issues that concerned her. She´s going to be deeply missed."

Lt. Gov. Casey Cagle released a statement Saturday, saying, "I had the privilege of serving with Nancy for several years in the state Senate and appreciated her kind heart and desire to serve the people of Georgia well. Nita and I will be praying for the entire Schaefer family and ask that the Lord will provide them with peace that passes all understanding during this difficult time." Schaefer, who has been active in conservative Christian causes for many years, was president of Family Concerns, a Christian organization.

She was elected in 2004 after federally redrawn legislative districts created an open seat in the 50th District. She defeated two Republican challengers and a Democrat to win the seat.

Prior to that, Schaefer ran for mayor of Atlanta in 1993, was the Republican nominee for lieutenant governor in 1994 and finished third in the GOP race for governor in 1998.

Gubernatorial candidate Nathan Deal, who represented the 9th U.S. Congressional District for nine terms, issued a statement Saturday saying that Schaefer was "passionate about her work and the causes to which she was so devoted."

"She will be remembered for her public service to Georgia," Deal said. "Sandra and I will join others in praying for her family in this terrible tragedy."

Before seeking re-election in 2008, Schaefer considered a challenge to U.S. Rep. Paul Broun for the 10th District congressional seat. She later chose to run for re-election to the state senate, but lost in the Republican primary to eventual winner Jim Butterworth.

On Saturday, Butterworth issued a statement to area media expressing his condolences to the Schaefer family.

"The Schaefers were a blessing to many who were privileged to know them," Butterworth said. "We are reminded that the Lord is near to the brokenhearted and as the Schaefer family mourns their loss, they can be assured that Amy and I will keep them in our prayers for many months to come."

Don Thomas, a state senator from Dalton, said he knew the Schaefers well and traveled to Habersham County to help support them in Nancy Schaefer´s last campaign.

"They were a real strong, Christian conservative family, and you wonder why something like this happens," Thomas said. "They seemed just madly in love all of their lives. It would appear there was never a cross word between them."

Schaefer was a former first vice president of the Georgia Baptist Convention, a frequent speaker to churches of all denominations, a speaker to civic and political organizations and a frequent guest on radio and local and national television programs. She once was host of a daily commentary show on WNIV-AM, an Atlanta Christian radio station, according to her state Senate biography.

In 2001, she became the first female trustee of Toccoa Falls College.

She and her husband lived in Atlanta for 35 years before relocating to Habersham County, where they settled in The Orchard, a gated golf community near Turnerville.

The 50th District, which she served, includes Habersham, Rabun, Towns, Stephens, Banks, Franklin, Hart and a portion of White counties.

Schaefer and her husband had five children and 13 grandchildren.