U.S. Agents Launder Mexican Profits of Drug Cartels
Undercover American narcotics agents have laundered or smuggled millions of dollars in drug proceeds as part of Washington's expanding role in Mexico's fight against drug cartels, according to current and former federal law enforcement officials.

The agents, primarily with the Drug Enforcement Administration, have handled shipments of hundreds of thousands of dollars in illegal cash across borders, those officials said, to identify how criminal organizations move their money, where they keep their assets and, most important, who their leaders are.

They said agents had deposited the drug proceeds in accounts designated by traffickers, or in shell accounts set up by agents.

The officials said that while the D.E.A. conducted such operations in other countries, it began doing so in Mexico only in the past few years. The high-risk activities raise delicate questions about the agency's effectiveness in bringing down drug kingpins, underscore diplomatic concerns about Mexican sovereignty, and blur the line between surveillance and facilitating crime. As it launders drug money, the agency often allows cartels to continue their operations over months or even years before making seizures or arrests.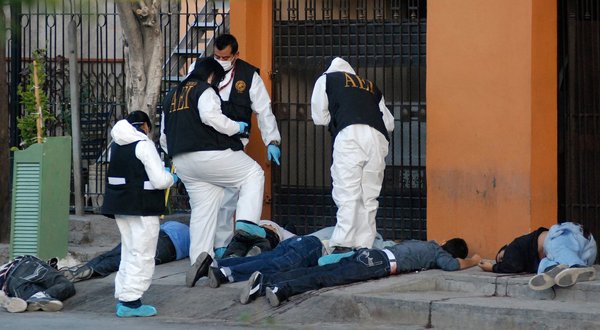 A crime scene in Monterrey, Mexico, last week. Drug-related violence has claimed the lives of more than 40,000 people since late 2006, Mexican officials say. Josue Gonzalez/Reuters


Agency officials declined to publicly discuss details of their work, citing concerns about compromising their investigations. But Michael S. Vigil, a former senior agency official who is currently working for a private contracting company called Mission Essential Personnel, said, "We tried to make sure there was always close supervision of these operations so that we were accomplishing our objectives, and agents weren't laundering money for the sake of laundering money."

Another former agency official, who asked not to be identified speaking publicly about delicate operations, said, "My rule was that if we are going to launder money, we better show results. Otherwise, the D.E.A. could wind up being the largest money launderer in the business, and that money results in violence and deaths."

Those are precisely the kinds of concerns members of Congress have raised about a gun-smuggling operation known as Fast and Furious, in which agents of the Bureau of Alcohol, Tobacco, Firearms and Explosives allowed people suspected of being low-level smugglers to buy and transport guns across the border in the hope that they would lead to higher-level operatives working for Mexican cartels. After the agency lost track of hundreds of weapons, some later turned up in Mexico; two were found on the United States side of the border where an American Border Patrol agent had been shot to death.

Former D.E.A. officials rejected comparisons between letting guns and money walk away. Money, they said, poses far less of a threat to public safety. And unlike guns, it can lead more directly to the top ranks of criminal organizations.

[...]

Read the full article at: nytimes.com





---


DEA Domestic Training - Professional Development Program

Money Laundering Seminar: The Money Laundering Seminar is a three-day school, coordinated with the Office of Financial Operations, offered to DEA Special Agents, Task Force Officers, Intelligence Research Specialists, and Diversion Investigators. The program is designed to provide specialized money laundering training to increase students' investigative abilities to identify, gather, and document drug-money laundering organizations in the United States and internationally. In addition, students will increase their knowledge of the financial services industry, how to target money laundering systems, and seize and forfeit the revenues generated by the drug-money laundering organizations.
Image: Source: www.Justice.gov/DEA

Perhaps they taught them a little TOO well...

~E





---



Video from: YouTube.com


Video from: YouTube.com