Vatican tied Mount Graham Observatory launches LUCIFER Telescope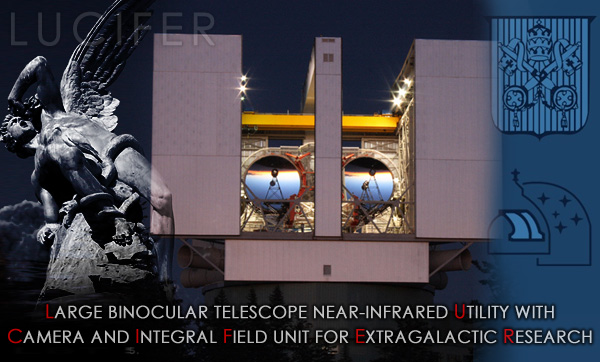 The Vatican Observatory Research Group (VORG) operates the 1.8m Alice P. Lennon Telescope with its Thomas J. Bannan Astrophysics Facility, known together as the Vatican Advanced Technology Telescope (VATT), at the Mount Graham International Observatory (MGIO) in southeastern Arizona where sky conditions are among the best in the world and certainly the Continental United States.

The new instrument on the Large Binocular Telescope is a powerful tool that will gain spectacular insights into the universe — from the Milky Way to extremely distant galaxies.

A new instrument for the world´s largest optical telescope, the Large Binocular Telescope (LBT) on Mount Graham, allows astronomers to observe the faintest and most distant objects in the universe.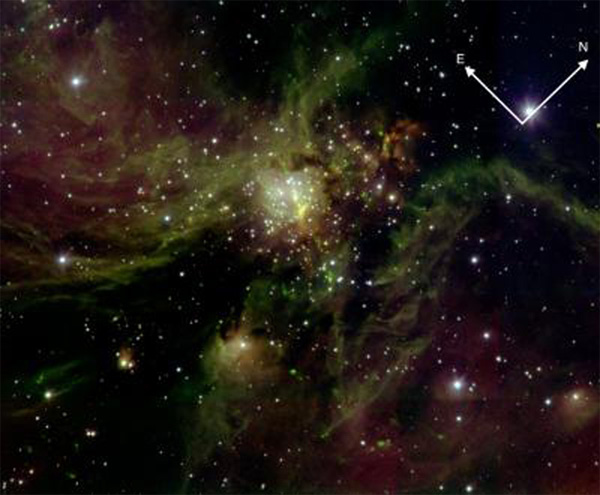 The first LUCIFER observations of star-forming regions are giving scientists an idea of the new instrument´s enormous potential. This image depicts a stellar nursery in the Milky Way about 8,000 light-years from Earth. Such clouds are typically opaque to visible light. However, infrared light detected by LUCIFER can penetrate the dust. Arjan Bik


The LBT partners in the U.S., Germany, and Italy announced April 21 that the first of two new innovative near-infrared cameras/spectrographs for the LBT is now available to astronomers for scientific observations at the telescope on Mount Graham in southeastern Arizona.

After more than a decade of design, manufacturing, and testing, the new instrument, dubbed LUCIFER 1, provides a powerful tool to gain spectacular insights into the universe — from the Milky Way to extremely distant galaxies. An identical twin instrument will be delivered to the telescope in early 2011.

"With the large light-gathering power of the LBT, astronomers are now able to collect the spectral fingerprints of the faintest and most distant objects in the universe," said LBT director Richard Green, a professor of astronomy at the University of Arizona´s Steward Observatory.

LUCIFER 1 and its twin are mounted at the focus points of the LBT´s two giant 27.6-foot-diameter (8.4 meters) telescope mirrors. Each instrument is cooled to -351° Fahrenheit (-213° Celsius) in order to observe in the near-infrared wavelength range. Near-infrared observations are essential for understanding the formation of stars and planets in our galaxy as well as revealing the secrets of the most distant and young galaxies.

LUCIFER´s innovative design allows astronomers to observe star-forming regions in unprecedented detail, which are commonly hidden by dust clouds.

The instrument is remarkably flexible, combining a large field of view with a high resolution. It provides three exchangeable cameras for imaging and spectroscopy in different resolutions, according to observational requirements.

Astronomers use spectroscopy to analyze incoming light and answer questions such as how stars and galaxies formed and what composes them.

Source: astronomy.com

Lucifer Where did the Word come from and what is its True Meaning?

Red Ice Radio
Michael Tsarion - Lucifer & The Dark Side of the Sun