Olympics opening ceremony shortened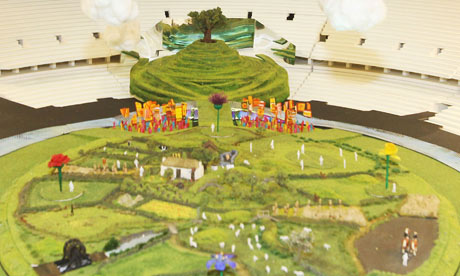 The controversial £27 million Olympic opening ceremony show has been cut short, sources say.

Reports suggest the opening production, which takes a "traditional view of the British countryside, featuring horses, cows and sheep", has been shortened to ensure the event finishes on time, and allows the some 62,000 spectators to get home by public transport without chaos.

With the ongoing G4S scandal, there have been some doubts raised over whether the opening ceremony has been curtailed due to security fears.


...a London 2012 source said the cuts had been ordered because more time was now needed to get the crowd in and out of the stadium. Dancers and musicians appearing in the show have been subject to queues of up to an hour, with one performer saying getting to and from rehearsals was "worse than waiting at US immigration on a bad day". However, a 2012 spokeswoman claimed they were simply "trimming segments" to ensure the show runs smoothly.


[Red Ice Radio: Ben Fellows - G4S Olympic Security Fiasco]

LOCOG (London Organising Committee of the Olympic and Paralympic Games) however, has denied that the adjustment was related to the G4S security debacle.


"We need to make sure the show comes in on time to make sure spectators can get home on public transport, so we have taken the tough decision to cut a small stunt bike sequence of the show.

"We will be paying contracts in full and giving full credit in the programme. The show is set to finish between 12am and 12.30am."


Assuredly artistic director Danny Boyle will wish for no further disruptions to the ceremonies - ones that set the stage for the tone of the Olympic Games, and showcase what London brings to the world: sheep and rain.

By Elizabeth Leafloor, RedIceCreations.com





---
Source Articles:

UK.MSN.com

Guardian.co.uk