Why Portugal is a haven for paedophiles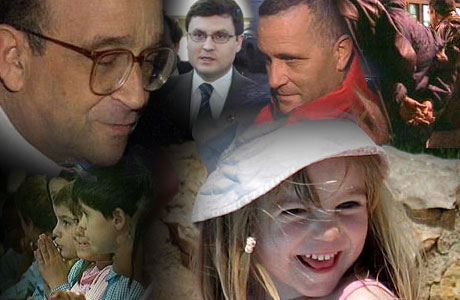 "Portugal is a paedophiles' paradise," said Mr Namora, now a lawyer campaigning on behalf of the Casa Pia victims. "If all the names come out, this will be an earthquake in Portugal. There is a massive, sophisticated network at play here - stretching from the government to the judiciary and the police.

"The network is enormous and extremely powerful. There are magistrates, ambassadors, police, politicians - all have procured children from Casa Pia. It is extremely difficult to break this down. These people cover for each other, because if one is arrested, they all are arrested. They don't want anyone to know."

A ferrari engine makes a deep, distinctive sound.

When the children at Portugal's most famous orphanage heard the sports car roaring down the driveway, fear swept through the dormitories.

The noise could mean only one thing: the man known as The Doctor was coming to call.

Yet this medical practitioner had no intention of adhering to the ancient Hippocratic Oath.

Instead, arriving at Casa Pia (House of the Pious), a 17th century Lisbon orphanage where more than 4,000 children are cared for each year behind high stone walls, the doctor would summon selected boys and girls from their beds for examinations one night each week.

Where possible, he chose deaf-mutes.

After checking that the children were not suffering from any sexual infections, the doctor was joined by the orphanage caretaker, known as Bibi, who ushered the unfortunate children outside to a waiting van.

With the doctor following in his red Ferrari, Bibi drove the van to the prestigious homes of some of the leading members of Lisbon society - ranging from Portuguese government ministers and high-ranking diplomats, to famous television stars and members of the judiciary.

There, the children were repeatedly sexually abused. Some were allegedly drugged to make them compliant; others were plied with alcohol.

This continued for years. Assaults were filmed; pictures of one attack were subsequently found at the home of a suspected paedophile in Paris.

According to medical records, the victims' injuries were horrific - and consistent with serious sexual assault and rape. In witness statements, many were able to describe in minute detail the homes where they were taken and identifying marks on the bodies of their abusers.

The existence of this so-called "magic circle" of the Portuguese establishment, allegedly involved in an international paedophile ring using boys and girls from Casa Pia, was last week likened to an earthquake waiting to shake Portugal to its foundations.

New allegations about the scale of the network will be put before the country's highest court within the next few weeks.

Amid rumours of links to other paedophile gangs across Europe and the U.S., international experts on child sex crimes and murders are expected to be in court when the case re-opens, four years after a group of victims broke a silence lasting more than 30 years.

But what relevance does this have to the disappearance 170 days ago of four-year-old Madeleine McCann in Praia da Luz, about 280km from Lisbon?

And what does it mean for Kate and Gerry McCann, who have not only had to cope with losing their child, but have also been subjects of a vicious campaign in the Portuguese press to smear them?

It is crucial for two reasons; first because it proves what international crime agencies have long suspected: that Portugal has become a magnet for predatory paedophiles from around the world, using the country's lax laws and preying on the high numbers of poor, abandoned children.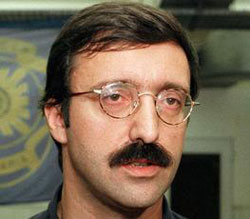 Paulo Rebelo

And second, because Paulo Rebelo, an urbane, methodical detective who led the Casa Pia paedophile inquiry, was last night finishing his first week as the new chief of the investigation into the disappearance of the British child.

Rebelo has replaced Goncalo Amaral, the "oafish" local police chief out of his depth in a case that has captured unprecedented world attention, with millions fascinated by the story of the girl snatched from her bed on holiday while her parents ate with friends 200 yards away.

The sight of the sweaty, corpulent Amaral in restaurants and cafes near the Portimao police headquarters had become commonplace since Madeleine disappeared.

While the McCanns were warned repeatedly they faced jail for speaking about the case, he was been overheard, during his daily three-hour lunches of wine and shellfish, accusing the couple of killing their daughter.

In one conversation with Portugal's ex-Formula One racing driver Pedro Lamy, Amaral revealed he was convinced the McCanns drugged their daughter and accidentally killed her. "The police case is we are sure the parents killed Madeleine. They are both doctors and know about drugs.

"We are confident in our case," he said.

In an effort to make up for lost time following Amaral's dismissal, Rebelo has recruited his own men from Lisbon. To the fury of the original officers, he has lost little time in sidelining them, bringing in two child sex experts from the Casa Pia case as well as homicide specialists and computer analysts - known as "the cleaners" due to their reputation for leaving no stone unturned.

According to senior police sources, he also launched a furious private attack on the 100 officers involved in the original inquiry, which he has now cut back to 40.

At a meeting, he accused some officers of having "closed minds" about who was guilty, saying that "pre-conceptions should be challenged".

In addition, he oversaw Operation Predator - raids on more than 70 suspected paedophiles, whose computers were searched last week for images of Madeleine or other evidence of criminal sexual acts. Although by last night Rebelo had failed to make a breakthrough, sources say it is a clear sign, along with reports that Russian child traffickers may be involved, of a strand of his current thinking.

In a Lisbon café, an associate of Rebelo told the Mail: "The Casa Pia case had a deep affect on Paulo. You come across things that are appalling and cruel. But you get a feeling that there are some seriously bad people in the world, and some of them are here. He does not rule anything out."

So, after enduring months of soul-destroying leaks from the Portuguese police - from claims that they drugged Madeleine and then disposed of her body, to allegations that Gerry was not even her real father - the McCanns are no longer the sole focus of the Portuguese police investigation.

But the nightmare goes on. A group of officers loyal to Amaral are still leaking smears to the Portuguese press.

The latest?

That bodily fluids from Madeleine's corpse were found in the boot of the couple's hire care and that "background checks" were to be carried out on Gerry McCann's laptop. And then the police "sources" claimed that Kate killed Madeleine without telling Gerry, and that the body was "refrigerated" before being dumped up to 25 days later.

His career in tatters and now back on desk duties in Faro, Amaral faces a criminal hearing in the case of another missing child, Joana Cipriano, after being accused of concealing evidence that the girl's mother was tortured into confessing to her murder.

Amaral and his colleagues face countless unanswered questions about mistakes in the original police investigation into Maddie's disappearance, such as failing to ensure the McCanns' apartment was sealed off for forensics. (This did not happen until the next day, by which time the McCanns, their friends, resort staff and detectives had traipsed through, destroying potentially vital evidence.)

They also failed to seal off the Mark Warner Ocean Club resort. No roadblocks were set up and police on the Spanish border - two hours' drive away - were not alerted for 12 hours. Staff were only quizzed 60 hours later. And the CCTV footage from a busy main road was never studied. The list of mistakes goes on.

While the shift in the investigation may ease the intolerable pressure on the McCanns, it will do little to console them.

As well as growing fears that Madeleine was abducted by a paedophile ring, they can have little hope of justice when leading Portuguese figures are allegedly involved in covering-up their own child sex scandal.

Both cases - the two highestprofile criminal investigations in the country since the end of the Portuguese military dictatorship in 1974 - have been riven by allegations of compromised police officers, high-level interference and vicious, virulent attacks on key witnesses.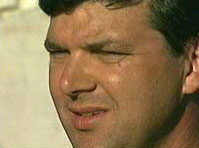 Pedro Namora

Pedro Namora, a former Casa Pia orphan who witnessed 11 rapes on fellow orphans, during which they were tied to their beds, sympathises with the McCanns. He believes elements in the force have conspired to suppress both scandals, fearing damage to the country's reputation.

"Portugal is a paedophiles' paradise," said Mr Namora, now a lawyer campaigning on behalf of the Casa Pia victims. "If all the names come out, this will be an earthquake in Portugal. There is a massive, sophisticated network at play here - stretching from the government to the judiciary and the police.

"The network is enormous and extremely powerful. There are magistrates, ambassadors, police, politicians - all have procured children from Casa Pia. It is extremely difficult to break this down. These people cover for each other, because if one is arrested, they all are arrested. They don't want anyone to know."

Now 44, Mr Namora watched as friends sank into alcoholism, drug addiction and death after their traumatic childhood experiences at Casa Pia. "I was the only one who made it," he said. "What could I do? I couldn't keep silent."

He has received death threats and warnings about what will happen to his own children, after taking up the case when an orphan called "Joel" approached him, saying prominent paedophiles were using Casa Pia as a "supermarket for children".

Mr Namora has been threatened after fighting on behalf of the abused children he grew up with.

After being telephoned by a stranger offering to pay off his mortgage, he was told the exact movements of his own three children, and warned that they and their father would come to a grisly end unless he shut up.

An open, warm man, Mr Namora makes an unlikely conspiracytheorist-But he believes the case, which he brought to light in 2003, will underscore Portugal's growing attraction for paedophiles, which has seen six children disappear in recent years.

One reason for this attraction is that the law was quietly relaxed last year, ahead of the forthcoming trial, meaning that repeat offences against the same child would merit only a single charge - and a lesser sentence.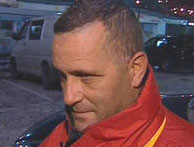 Carlos Silvino "Bibi"

In echoes of the McCanns' ordeal, the initial investigation was badly handled when allegations of abuse were first made at Casa Pia in 1982. Carlos Silvino, the man known as Bibi, was linked to rapes and assaults, but police "lost" pictures showing prominent Lisbon politicians with him and the children.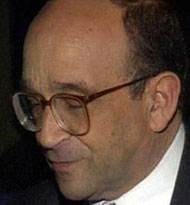 Jorge Ritto

He was only charged after dozens of children came forward in 2003. They also accused Jorge Ritto, a former Portuguese ambassador, of child abuse. Ritto, it transpired, had also once been sent home in disgrace from a posting in Germany after an incident involving a young boy in a park.

The conspiracy did not end there. Teresa Costa Macedo, a former secretary of state for the family, has revealed that she knew about the attacks in the early Eighties - and that she had alerted General Antonio Ramalho Eanes, the then Portuguese president, about the allegations.

Mrs Costa Macedo, who remained silent for two decades after being warned she would be killed if she spoke, now says that the caretaker "was just one element in a huge paedophile network that involved important people in our country. It wasn't just him [the caretaker]. He was a procurer of children for well-known people who range from diplomats and politicians to people linked to the media".

While still a government minister, Costa Macedo handed police "photographs, an account of the methods used to spirit children out of the orphanage and testimonies of a number of children". Many of the photographs were found at ex-ambassador Jorge Ritto's house. Police reportedly found four children locked up who had been missing from Casa Pia.

Under armed guard at a safe house last week, Bibi could count himself a lucky man. He originally faced allegations that he had sexually assaulted more than 600 children. That has since been reduced to 30. Silvino has hinted at the high-level of the conspiracy, saying: "They can't touch me - there are too many people involved."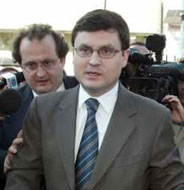 Paulo Pedroso

Following Ritto's arrest, the police questioned Carloz Cruz, known as Portugal's "Mr Television", and Joao Diniz, a high- society doctor and driver of the red Ferrari. The network allegedly went further. Paulo Pedroso, a government minister, was arrested and quizzed about 15 cases of child sexual abuse.

Amid allegations that paedophile networks have become endemic in Portugal - the European police force Interpol has named the country as one of the worst offenders in Europe - there are fears that the Casa Pia scandal will come to eclipse Belgium's notorious Marc Dutroux case, in which the arrest of a notorious paedophile and child murderer revealed a sordid picture of judicial and political corruption.

Of course, the Casa Pia case may have no direct link to the disappearance of Madeleine, but the culture in which such a serious child abuse network was allowed to operate is the same culture that pervades the whole of Portugal. Was it this attitude that led to the bungled initial investigation in the McCann case?

Perhaps the appointment of the man who exposed the Casa Pia scandal will give the parents of Maddie hope that a proper investigation will now discover the truth.

Article from: http://www.dailymail.co.uk/pages/live/articles/
news/news.html?in_article_id=488654&in_page_id=1770